Vaccinations for your pet
Vaccinating your pet is one of the most important things you can do to ensure they lead a healthy life.
Your pet's health, lifestyle and exactly where on the suburb you live may affect which vaccinations are necessary, so our expert vets will work with you to develop a simple and effective vaccination program for your pet.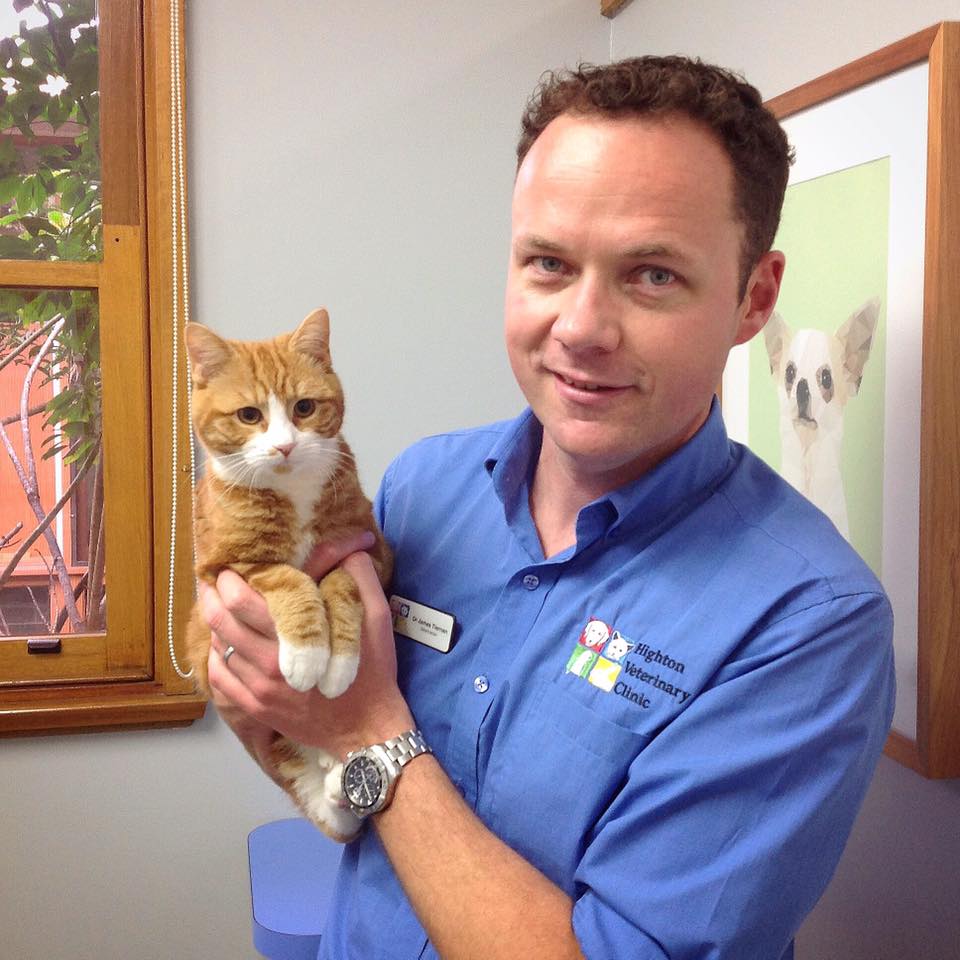 Why you should vaccinate your pet
Vaccinations protect against preventable diseases
Vaccinations are substantially less expensive than the cost of vet treatment for the diseases they protect against
Vaccinations protect your pet from transmissible diseases in boarding facilities, at parks and even when they visit the vet. If your pet has to be hospitalised for any illness, their immune system may already be compromised so you want to make sure they are protected.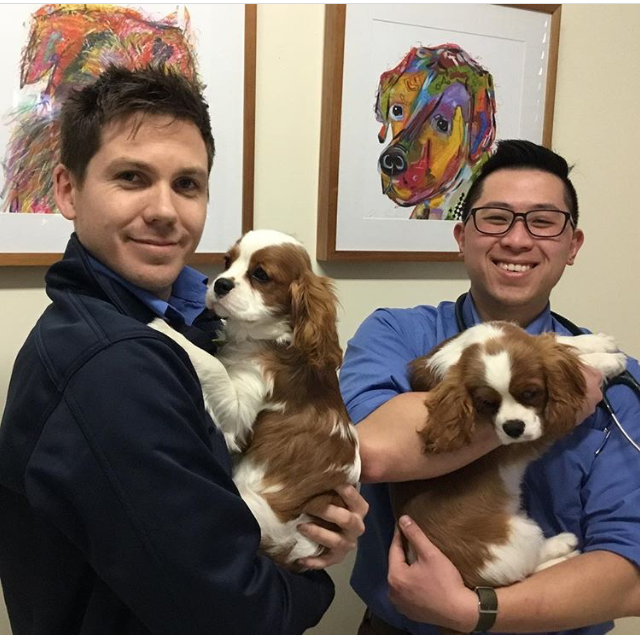 Vaccinating your dog
A puppy's first vaccinations are at 6-8 weeks, then 12-14 weeks, 16-18 weeks, and annually after that. Only one week after the final puppy vaccination should your puppy be allowed to go outside and socialise with other dogs.
Canine vaccinations are known by the codes C3, C4 and C5, and the diseases that are commonly vaccinated against around suburb are:
Parvovirus
A disease that causes potentially fatal diarrhoea, especially in pups and dogs under 2 years.
Distemper
A disease that causes coughing, diarrhoea and sometimes twitching, seizures, loss of balance and blindness.
Hepatitis
A disease that causes vomiting, diarrhoea, abdominal pain and possibly liver failure.
Canine Cough
Also known as Kennel Cough, but NOT only a risk if your dog is boarding.
Parainfluenza
A viral disease causing a nasty cough.
Bordatella bronchiseptica
Bacteria causing a harsh, dry cough and lethargy.
Vaccinating your cat
A kitten's first vaccinations are at 6-8 weeks, then 12-14 weeks, 16-18 weeks, and annually after that. Only one week after the final kitten vaccination should your kitten be allowed to go outside and socialise with other cats.
The main feline vaccinations are known by the codes F3 and F4, and common cat vaccinations around suburb are:
Enteritis (Feline Panleukopenia)
This disease can be very severe especially in unvaccinated kittens less than 12 months of age. It causes fever, vomiting, diarrhoea, liver failure and sudden death.
Feline Calicivirus
A disease that is part of the cat flu.
Feline Rhinotracheitis (Feline Herpes Virus)
A disease that is another part of cat flu and can lead to permanent nasal and sinus infection.
Chlamydia
A bacterial disease causing conjunctivitis, respiratory disease, infections, arthritis and even abortion
Feline Immunodeficiency Virus (FIV or Feline AIDS)
Your cat must be vaccinated against this if your cat EVER goes outside. It is a potentially fatal disease spread between cats via bites, for which there is no treatment or cure.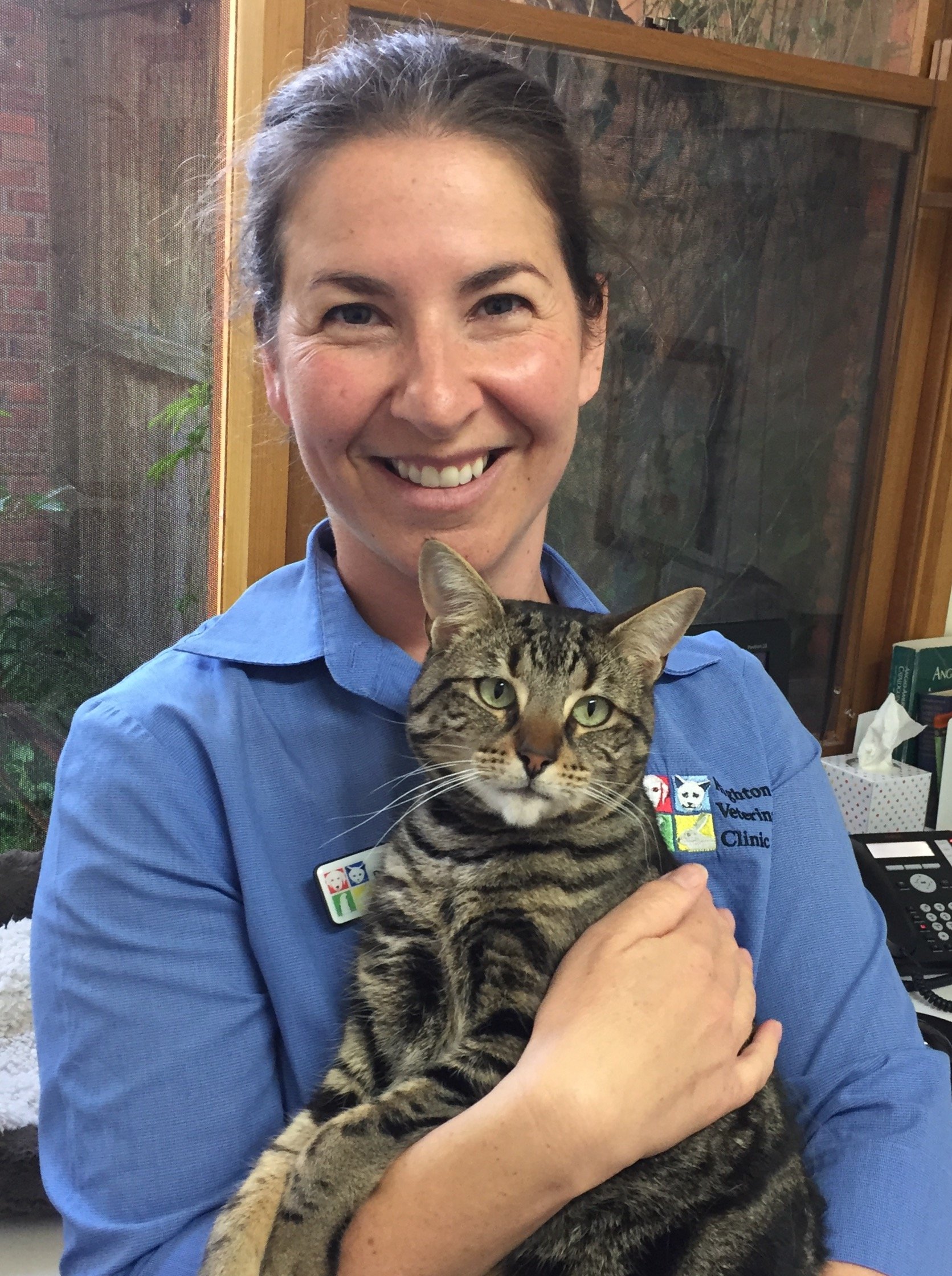 Schedule a visit
We provide the same exceptional experience at both clinics.
Best Vets in Geelong appropriately named as Vets of Geelong
Christine Accheni
22:37 17 Jan 22
I have had the pleasure of Dr Sue Jacker attending to my cats for the past 18 years. Nothing is ever to much trouble for Sue, such a caring nature & very professional in every way. Dont ever leave Sue, Jagger & i would be lost without you.
Adelle Stacey
02:54 17 Dec 21
Always friendly and helpful
Alex Redsell
21:33 10 Dec 21
Amazing vets caring and compassionate great value highly recommend
Rebecca Snoeks
22:20 30 Nov 21
The evening vet was excellent with my puppyTank who has hurt his back left leg. She was very caring and loving to him. She also stayed back well after an hour after the practice had closed to see to his needs. Thanks very much.
Colin France
22:15 30 Nov 21
I recently moved to Geelong and my dog was stung by a bee (and is allergic). I found this clinic by frantically searching for an after hours emergency vet, and I am so glad I did. James and the team are incredibly friendly and caring to both patients and their parents. I cancelled future appointments I had with another vet closer to home and decided I wanted to have these guys be my regular vet 🙂
Tamie Leigh
08:11 17 Nov 21
Fantastic, caring, well priced service. From the very first call I made to enquire about my concern from my cats health through to follow up calls about her wellbeing after vaccinations - I can't quite believe how generous and caring the team at Geelong West Veterinary Clinic are. It is so nice to know that we can take our precious family member here and trust that all will be well with her and that we will never be taken advantage of financially. We are so grateful to have found such a caring vet so close by 🙂 Thankyou
Millicent Backway
04:52 12 Nov 21
Looked after us and our cat Huntress. Will definitely go back in the future when needed
Ashlei Allen
02:01 06 Nov 21
The vets here were amazing with my cockatoo Dewey. They were quick and handled him the best I've ever seen a vet handle him
That Weird One Hannah
05:38 18 Oct 21
Wonderful service! We have had our dog come here for a few treatments.Today our dog had their nail ripped out of their paw and one panicked phone call later (taken by Maddy) a Nurse was able to see our dog, with compassion and a smile and treated it quickly. Thank you thank you so much team! Highly recommended.
baabelfish
03:00 07 Oct 21
Highly recommend! The staff are really great and helpful 😊 couldn't be more happier knowing our pets' being looked after so well.Thankyou!
So suportive and knowledgeable. I have been looking for ages for a vet that foesmt peddle expensive medicines and random investigations for my dog for no reason and these guys are amazing.
Emilia Quijano
23:23 10 Sep 21
Very warm and welcoming first visit 😊 everyone there was so nice, not to mention lovely with my rabbit. I had been on the hunt for a good vet for a couple of weeks and I'm super happy with my choice :))
These guys are open late, are really friendly, and comprehensive in their care. Highly recommended for anyone in the Geelong area.
David Coates
21:26 19 Jul 21
After calling vets of Geelong in a panic as my bernese mountain dog puppy had swallowed a sock, the night before his first ever show. I made the trip to highton, The staff were amazing and so accommodating. Highly recommend Vets of Geelong
We took our cat there who had been developing pain walking.He was given a full body examination checking all of his bones, organs and temperature.His symptoms were explained as developing arthritis and our pain relief options were discussed, and we immediately started treatment Dr Melody was so caring, knowledgeable and helpful, and my cat was relaxed and calm. Could not fault their service and the cost (including medication) was very reasonable. Happy to Recommend!! Thanks x
Shelley McConachy
07:20 11 Jul 21
Cannot fault or question their care for animals or their compassion for their patients and the owners. They are the best in town.
Stuart Gibson
05:22 13 Jun 21
We were treated with kindness and incredible empathy when our beautiful Marley was terminally ill and passed away.....could not recommend Dr Annie more highly ⭐⭐⭐⭐⭐
Judy Damoulakis
03:37 10 Jun 21
even though I wait for a while to see the vet, but I'm happy with the staff and vet for their service and professionalism.
Tanya Smith
22:10 13 May 21
Bought our dog in with a sore leg, our first visit . Many thanks to Nurse Sarah , Dr Rachel and admin staff for the care given to Bo. Wonderful people and excellent service
Mike Craft
22:12 25 Apr 21
Always friendly and loving of your pets, yet very professional.
Dale Muccignat
11:42 23 Apr 21
Staff are always friendly and show an absolute love of animals could not recommend the any more highly
Wayne Hewitt
21:58 18 Apr 21
Brought my buddy Jerry for assistance to ease his itchy ear, the lady at reception was very friendly, then within minutes I met Vet, Malody was lovely, genuinely caring & brought comfort to my pooch. Definitely recommend this Vet to others. Thank you
Netty Green
22:28 13 Apr 21
In addition to providing great care the clinic is extremely welcoming & showed genuine concern for my dog. Staff even assisted me to lift my 30kg dog into my car. The follow up is excellent - really good customer service.
When my immunocompromised cat started showing signs of being unwell on a Sunday I was relieved to find somewhere that was open and with good hours too. The vet who saw us was absolutely lovely and spoke kindly to my nervous little girl. They even followed up by calling the next day to check up on how she was doing. Thank you for caring for Elena 🙂
Alex Emilee
11:12 29 Mar 21
Wonderful clinic. Great vet. Looked after my girl Opal with understanding and experience.
Sharon Parsons
19:24 15 Feb 21
The team at Vets of Geelong - Highton Clinic were just so professional and lovely. They really care about their patients and customers, they are just amazing providing a courtesy call to check up on my pet and even sent a handwritten personal letter with some items that come along with it! All in all so so amazing and could not recommend enough! You really care about your customers.
Benjamin Dogic
05:58 13 Feb 21
Really friendly staff and vets, highly recommend 🙂
georgia sutcliffe
03:25 09 Feb 21
Amazing staff, service and good pricing. They were so good with my fur baby, highly recommended.
Samantha Christou
10:43 03 Feb 21
We had a wonderful experience taking our puppy, Baz, to the Highton clinic for his first round of vaccinations. The vet who looked after Baz was very friendly and helpful.Our puppy was treated with great care and we (first time dog owners) left with all of our questions answered. Baz got plenty of treats and can't wait to go back!
Chelsea Gundry
23:18 21 Jan 21
The team were fantastic with my dog, treated him as their own dog. Dr Annie and Rachel and the whole team were brilliant with him.
Wonderful staffVery helpful and caring 10+
Jillian Tiernan
23:44 11 Jan 21
I visited a few local vets to get an idea of their costs and set up before we brought Paddy home, however I found this clinic to be very professional, caring, and no-nonsense, straight up about what was needed and expected for my Cavoodle. Great service and value for money.
Amanda Slatter
04:18 05 Jan 21
I haven't personally dealt with them, I took my brother there for his cat, he was very happy with their services. They were the only vet open on a Sunday.
Miss Karma
01:50 06 Dec 20
Highly recommend! As a bit of a worry wart I really appreciate the kindness and attention to detail that the staff at Geelong West Vet Clinic so willingly give. Easy to book online, great communication and reasonably priced.
Fantastic service from reception right through to the Dr in the surgery. A Sunday appointment and I left the clinic feeling very comfortable that our little dog was going to be fine after a thorough assessment. We just moved to this area and the Geelong West Vet clinic will be our go to vet for everything in the future.
They are great and lots of help and a big thank you for the flowers that you sent me and my son.the staff there are so caring and helpful.
Tammy Fisher
08:01 20 Nov 20
I'm not normally one for writing reviews but Highton Vet Clinic honestly saved me and my dog. For the last year my poor girl has been put through the ringer of treatments and I was too foolish to question it because I'm trusting my vet who is a trained medical professional right? Oh how wrong I was. I brought her to Highton for a second opinion after some doubts in these "treatments" and they were so amazing and honest and I only wish I'd done it sooner rather than wait as long as I had. Will definitely only be using Highton from now on for all my furchildren. 5/5 stars is honestly not enough you saved her future and me from going insane with stress so thank you.
Wonderful with our nervous animals, knowledgeable and most importantly accessible when required!
Rachel Driscoll
00:58 30 Oct 20
First time going to the vet clinic in Geelong West, I usually go to the clinic in Highton. Same great service, they are great with my cockateil, informative, friendly and very reasonably priced. I couldn't imagine going to another vet clinic
Rhianna Gallagher
06:39 20 Oct 20
Olivia was great with Gypsy. Rachael is the best. Thank you . See you again next week for Gypsys next injection.
Rhona Fraser
04:51 12 Sep 20
OMG what brilliant staff and vets. Pity human doctors didn't treat us this way. So very caring and GENUINE.They looked after our boy so well.
Chris Brooks
09:55 03 Sep 20
Always a warm and professional experience.
Chris Bennett
08:54 30 Aug 20
I had never been to this vet before but had to take my very old sick cat in last night. Reception was nice and helpful, I booked an appointment easily and drove to the clinic, the vet that saw me was was very kind and gave me all the information that I needed. Sorry I can't remember the vets name but he was thoughtful and what was a sad night due to how sick my poor cat was, was made easier and by their professional manner. They did all this will be covid safe too. I would recommend this vet practice. Thank you
Ellen Dusek
02:06 20 Aug 20
Very compassionate and kind took good care of my cat
Great service nice and friendly they show great concern for.ur animals.welfare couldn't b happier
Julie Carter
08:15 11 Aug 20
Very happy with the service provided and would highly recommend the Geelong West vet to anyone who needs any form of pet care.Kind and caring staff who take pride in making you and for me my cat feel safe . The after care support is excellent aswell.
Craig Smith
00:52 07 Aug 20
Have been to both Highton and Geelong West Veterinary Clinics and both have been outstanding with their friendliness, care and compassion towards both patient and clients. I was very satisfied with the care/treatment my animals received. I just received a follow up letter asking how my Dog is doing and some goodies/vouchers. How lovely
such a compassionate and caring team!. great communicators pre, during and post surgery
Ross Healy
07:37 21 Jul 20
Very friendly and warm staff. Great knowledge and care factor for our two puppies. Very easy experience.
shaan blythe
03:16 03 Jul 20
The Vet & Vet Nurses were so good to us & our dog Siya! They were informative and supportive throughout . It was not a good outcome but they really did try to help our beloved Siya. I would highly recommend this vet for your pets as they are all so lovely. Thankyou to everyone ! X
Haylee Karangaroa
03:11 03 Jul 20
Great nurses, very kind and understanding. Receive vouchers with your first visit!, all round great clinic.
Layelle Jaafar
06:11 26 Jun 20
So lovely. Took my dog in late at night as I thought she had what looked like a tick, the vet nurse checked it out free of charge and was so lovely. Thank you, it's clear they care so much about every animal that comes through.
Lucy Missen
06:12 12 Jun 20
In a very distressing time with the sad loss of my dog of 18 years, this clinic was amazing and even has a personal touch that made our experience more palatable thanks soo much for your gift and kind words I'm spreading the word proudly.
Annie Ersch
10:22 12 May 20
The best vet clinic in town! Thank you to the amazing staff at this clinic for making our visit this week so successful! Such a stressful situation for our family and our dog and the care you gave us all could not have been better. I loved the phone call updates and photos you shared of our dogs day stay. So happy you moved into our neighbourhood 🙏
Gabrielle Connor
04:42 18 Mar 20
I went there for the first time cause my cat was seriously ill and i had to put him down in the end which was really upsetting and they were wonderful and much to my surprise today i got a beautiful bunch of flowers and a card from them from them
tracey maher
05:44 16 Mar 20
This is by far the best vet we've ever had! We are new to the area and had tried a few other local vets but we weren't impressed with any of them THEN we found Geelong West Vet Clinic and we couldn't be more thrilled! Everyone there is lovely, knowledgeable & passionate. The clinic itself is bright & clean. I was blown away by the level of customer service & care to detail! After our first appt they called me the next day to see how our dog was responding to the medication & if I had any questions. They really care about what they are doing and I couldn't recommend them higher.
Lara Elwin
05:17 11 Feb 20
If I could give more stars I would. I have been to many vets over Geelong and have never felt so confident as I do when I bring my pets in to HVC. Every vet, nurse, receptionist has been absolutely wonderful and very caring to our fur children. Our dog has had 2 knee surgeries and each time we always get a photo and an update sent via text. My cat is in there being treated for a snake bite and i get a text and phone call morning and night on her progress. They are all wonderful
Erin Costello
00:27 05 Feb 20
Best vets in Geelong that I've ever been to.
Sally Ersch
09:59 12 Jan 20
The staff at Geelong West Vet Clinic truly love all animals. The care, attention and love they have provided to Sav my much loved savannah cat goes well beyond any other vet i have used in the past. Glad to have found Jane, James and the team at Geelong West Vet Clinic.
Paul Collins
21:28 06 Jan 20
Highly recommend!! We visited after reading great reviews from others with birds. Then reception staff were just lovely, and Kristian was fantastic with one of our Muscovy ducks: very gentle with her, patient, took his time to be very thorough, checked the literature for latest evidence on appropriate treatment, and followed up with a phone call later. He even adjusted the room temperature for her! Brilliant. I also thought the pricing was reasonable - always a big help. Thank you so much Kristian and team!
Krystina Mossop
04:11 28 Dec 19
Highly recommend! 😍 the staff were so helpful Highly professional and caring. A BIG Thank you for making a stressful time stressless Merry Christmas love from Betty, Anne and most of all Tooty 🐱
Anne Salaviejus
21:44 09 Dec 19
Popped in for a quick check of our Staffy Frankie, worming, flea treatment and general health check. Super friendly, very professional and made Frankie feel relaxed as it's not her favourite place to be ..😂😂 great to be followed up with a few days later and we will definitely be making Geelong West Vet Clinic our go to Vet from now on. 👍👍
Robin Vetch
02:36 22 Nov 19
Great service, reasonable prices and excellent opening hours. I'm very happy to leave our dog in their capable hands 🙂
Laura Freeman
04:29 28 Aug 19
Our cockatiel was vomiting so we called the vet. The vet nurse spoke to me on the phone, had me describe symptoms and told me what to look out for. I ended up taking the bird into the vet the next day. Dr. Marg was amazing, very knowledgeable about (and good with) birds. The clinic called to follow up the next day and I was pleased to say the vomiting had already completely stopped. All in all a great experience and we will be going back.
Elizabeth Fagan
05:53 24 Jul 19
Great, comforting service! They really know how to put the owner's mind at ease when their pet is having a procedure done. Thank you and we'll done!
Leone Viljoen (Elle Vee)
12:03 18 Jul 19
Took my bird Scarlett (varied lorikeet) to highton vet clinic they were very attentive and knew what was wrong with her straight away! They had both of us reassured by the time we finished up. I would recommend this vet to anyone with a bird! Very professional.
Amanda La Praik
08:18 17 Jul 19
By far the best vet clinic I have ever been to! Highly highly recommend. Every vet is so kind, caring and concise. All other team from reception to nurses are also so helpful, welcoming and thoughtful. I am such a nervous cat Mum and often I call them for advice and never have they been impatient with me. They listen and give me great advice, and never rush me off the phone no matter how silly my worry is. They are open til 10pm every night which shows how important animals are to them, it gives me so much peace of mind to know they are there til late if ever something were to go wrong and I appreciate all the late shift workers so much! Take your babies here, there's no other vet like them
melanie jane
09:01 12 Jul 19
The vets are amazingly attentive and kept me informed about my rabbit while she had an overnight stay, including a check up call a few days later. I'm throughly impressed with their services and high level of care, will be returning customer for many years to come.
Jennifer Zdravkovski
04:42 01 Jul 19
Thank you for your help with Foxy. She is once again a VERY happy cat. All the best to all staff who helped our smallest family member get better.
Paul Collins
09:14 24 Jun 19
Very friendly environment and genuine love and care was given to our injured kitten. Extended opening hours were a blessing. They gave us great aftercare advice and stayed in contact to make sure our kitty's recovery was going well. Thank you so much, I highly recommend this clinic to anyone!
Audra Scott
03:49 14 Jun 19
We bring all our pets here. Dog, bird, rabbits, guinea pigs. The staff are gorgeous and they genuinely LOVE our pets and sometimes I think more than we do judging from the kisses our dog gets!
Funky Chick
14:09 07 Jun 19
I'm so impressed with the Highton Vet Clinic. I'm new to the Geelong area so a quick google search found these guys and I'm so glad I did. I called one night during their extended opening hours as I was a little bit worried about my newly adopted pup but they were more than happy to give me some advice over the phone, which led on to them assuring me a check up in the morning would be okay and not to stress about getting there that night. We booked my dog in the next morning and the vet, Kristian, was fantastic! Made my pup feel very very comfortable and loved in an often unfriendly environment. It was a very easy going visit and my little girl was in tip top shape. The next day I received a follow up call to make sure she was still doing well- another amazing point. And today in the mail I received a gift pack welcoming me to the clinic. To say I'm impressed with their service is an understatement. Would recommend to anyone.
Dakota Whitten
10:16 30 May 19
Excellent service, we needed "after hours" care for our dog but didn't necessarily need the emergency vet. The long opening hours meant we could get care for our pet and we were beyond happy with the service our dog Augie received.
Staff are wonderful including reception, nurses and vets however visits can be costly. Taz gets the best of care
Chris Saunders
11:24 10 Oct 18
A very warm and positive experience, my Cavoodle Yoshi and I were blown away by their attention and care ... from the front desk to their vet and nurses. I highly recommend this vet clinic.
David Stasiuk
02:33 09 Sep 18
We adopted a kitten and were so impressed with the entire process. We will bring all of our pets to this vet from now on!
Vet of choice for Capstan the golden deceiver (far from a retriever)
Brenden Caligari
03:05 14 Apr 17
Thank you so much for your wonderful care of my cat, Charlie, he was so uncomfortable he didn't sleep, he is now fast asleep and has been since he got back from seeing you
Pam Cockfield
09:31 05 Mar 17
Went to Highton Vets on the weekend as they were the only clinic open that didn't charge me extra for the weekend. The staff were friendly and the vet was straight onto my dog's problem and she's much better, I'm going to stay with them now and not going back to my old vet now.
Trish Williams
12:44 15 Jul 13
I have been using this Vet for the last 3 years and they have always been lovely and professional. I have a dog and two cats and all of my visits have been a pleasure. They send you reminders of vaccinations and give you great advice on keeping your pet healthy. I have no hesitation in recommending this vet clinic to anyone.
Erica Margret
10:34 09 Jul 13
Our family,
caring for yours