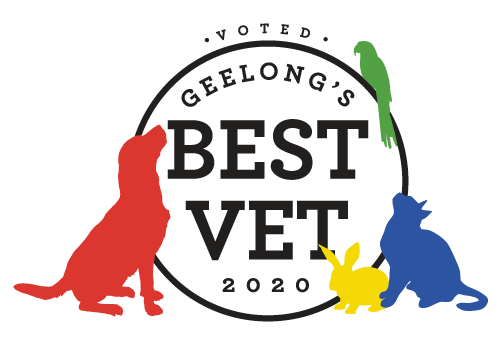 Our Family, Caring

 
For
 

Yours
We are a trusted, local, family-owned Geelong veterinary group run by a husband-and-wife team with two clinics in Highton and Geelong West.
We hold a lifelong passion for animals and we exist to ensure that Geelong pets receive the best care possible.
We do this by offering a friendly, knowledgeable and welcoming space where animals come first.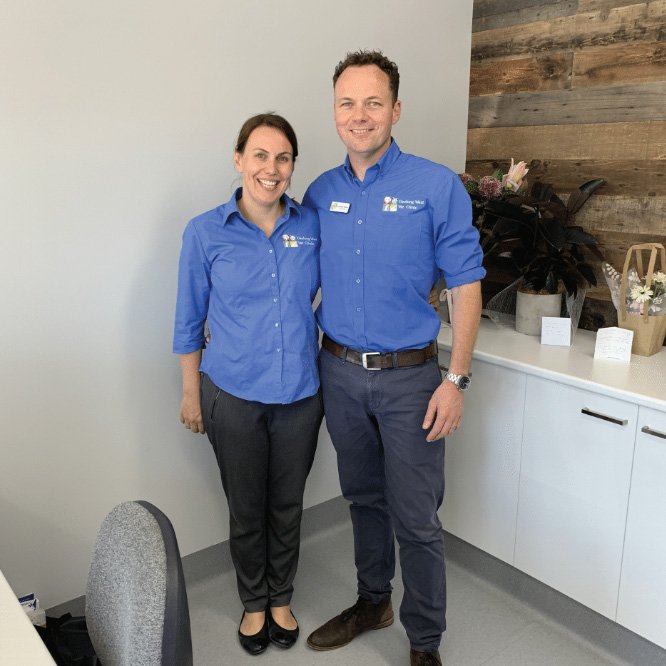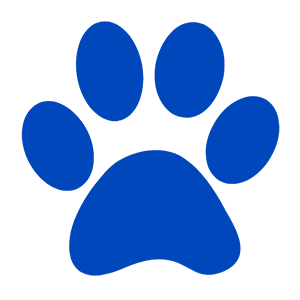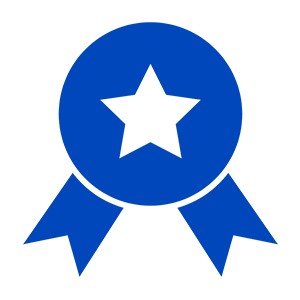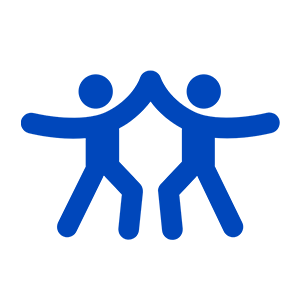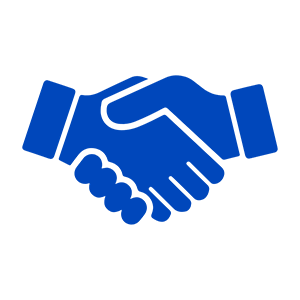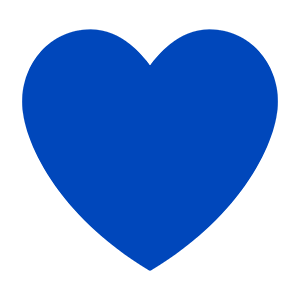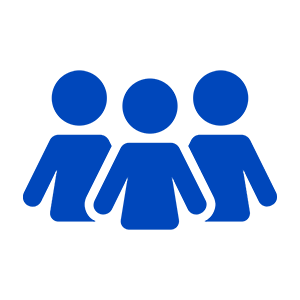 Meet our Vets of Geelong team
Our Veterinarians, Veterinary Nurses and Support Team truly embody our core values.
Best Vets in Geelong appropriately named as Vets of Geelong
Christine Accheni
22:37 17 Jan 22
I have had the pleasure of Dr Sue Jacker attending to my cats for the past 18 years. Nothing is ever to much trouble for Sue, such a caring nature & very professional in every way. Dont ever leave Sue, Jagger & i would be lost without you.
Adelle Stacey
02:54 17 Dec 21
Always friendly and helpful
Alex Redsell
21:33 10 Dec 21
Amazing vets caring and compassionate great value highly recommend
Rebecca Snoeks
22:20 30 Nov 21
The evening vet was excellent with my puppyTank who has hurt his back left leg. She was very caring and loving to him. She also stayed back well after an hour after the practice had closed to see to his needs. Thanks very much.
Colin France
22:15 30 Nov 21
I recently moved to Geelong and my dog was stung by a bee (and is allergic). I found this clinic by frantically searching for an after hours emergency vet, and I am so glad I did. James and the team are incredibly friendly and caring to both patients and their parents. I cancelled future appointments I had with another vet closer to home and decided I wanted to have these guys be my regular vet 🙂
Tamie Leigh
08:11 17 Nov 21
Fantastic, caring, well priced service. From the very first call I made to enquire about my concern from my cats health through to follow up calls about her wellbeing after vaccinations - I can't quite believe how generous and caring the team at Geelong West Veterinary Clinic are. It is so nice to know that we can take our precious family member here and trust that all will be well with her and that we will never be taken advantage of financially. We are so grateful to have found such a caring vet so close by 🙂 Thankyou
Millicent Backway
04:52 12 Nov 21
Looked after us and our cat Huntress. Will definitely go back in the future when needed
Ashlei Allen
02:01 06 Nov 21
The vets here were amazing with my cockatoo Dewey. They were quick and handled him the best I've ever seen a vet handle him
That Weird One Hannah
05:38 18 Oct 21
Wonderful service! We have had our dog come here for a few treatments.Today our dog had their nail ripped out of their paw and one panicked phone call later (taken by Maddy) a Nurse was able to see our dog, with compassion and a smile and treated it quickly. Thank you thank you so much team! Highly recommended.
baabelfish
03:00 07 Oct 21
Highly recommend! The staff are really great and helpful 😊 couldn't be more happier knowing our pets' being looked after so well.Thankyou!
So suportive and knowledgeable. I have been looking for ages for a vet that foesmt peddle expensive medicines and random investigations for my dog for no reason and these guys are amazing.
Emilia Quijano
23:23 10 Sep 21
Very warm and welcoming first visit 😊 everyone there was so nice, not to mention lovely with my rabbit. I had been on the hunt for a good vet for a couple of weeks and I'm super happy with my choice :))
These guys are open late, are really friendly, and comprehensive in their care. Highly recommended for anyone in the Geelong area.
David Coates
21:26 19 Jul 21
After calling vets of Geelong in a panic as my bernese mountain dog puppy had swallowed a sock, the night before his first ever show. I made the trip to highton, The staff were amazing and so accommodating. Highly recommend Vets of Geelong
We took our cat there who had been developing pain walking.He was given a full body examination checking all of his bones, organs and temperature.His symptoms were explained as developing arthritis and our pain relief options were discussed, and we immediately started treatment Dr Melody was so caring, knowledgeable and helpful, and my cat was relaxed and calm. Could not fault their service and the cost (including medication) was very reasonable. Happy to Recommend!! Thanks x
Shelley McConachy
07:20 11 Jul 21
Cannot fault or question their care for animals or their compassion for their patients and the owners. They are the best in town.
Stuart Gibson
05:22 13 Jun 21
We were treated with kindness and incredible empathy when our beautiful Marley was terminally ill and passed away.....could not recommend Dr Annie more highly ⭐⭐⭐⭐⭐
Judy Damoulakis
03:37 10 Jun 21
even though I wait for a while to see the vet, but I'm happy with the staff and vet for their service and professionalism.
Tanya Smith
22:10 13 May 21
Bought our dog in with a sore leg, our first visit . Many thanks to Nurse Sarah , Dr Rachel and admin staff for the care given to Bo. Wonderful people and excellent service
Mike Craft
22:12 25 Apr 21
Always friendly and loving of your pets, yet very professional.
Dale Muccignat
11:42 23 Apr 21
Staff are always friendly and show an absolute love of animals could not recommend the any more highly
Wayne Hewitt
21:58 18 Apr 21
Brought my buddy Jerry for assistance to ease his itchy ear, the lady at reception was very friendly, then within minutes I met Vet, Malody was lovely, genuinely caring & brought comfort to my pooch. Definitely recommend this Vet to others. Thank you
Netty Green
22:28 13 Apr 21
In addition to providing great care the clinic is extremely welcoming & showed genuine concern for my dog. Staff even assisted me to lift my 30kg dog into my car. The follow up is excellent - really good customer service.
When my immunocompromised cat started showing signs of being unwell on a Sunday I was relieved to find somewhere that was open and with good hours too. The vet who saw us was absolutely lovely and spoke kindly to my nervous little girl. They even followed up by calling the next day to check up on how she was doing. Thank you for caring for Elena 🙂
Alex Emilee
11:12 29 Mar 21
Wonderful clinic. Great vet. Looked after my girl Opal with understanding and experience.
Sharon Parsons
19:24 15 Feb 21
The team at Vets of Geelong - Highton Clinic were just so professional and lovely. They really care about their patients and customers, they are just amazing providing a courtesy call to check up on my pet and even sent a handwritten personal letter with some items that come along with it! All in all so so amazing and could not recommend enough! You really care about your customers.
Benjamin Dogic
05:58 13 Feb 21
Really friendly staff and vets, highly recommend 🙂
georgia sutcliffe
03:25 09 Feb 21
Amazing staff, service and good pricing. They were so good with my fur baby, highly recommended.
Samantha Christou
10:43 03 Feb 21
We had a wonderful experience taking our puppy, Baz, to the Highton clinic for his first round of vaccinations. The vet who looked after Baz was very friendly and helpful.Our puppy was treated with great care and we (first time dog owners) left with all of our questions answered. Baz got plenty of treats and can't wait to go back!
Chelsea Gundry
23:18 21 Jan 21
The team were fantastic with my dog, treated him as their own dog. Dr Annie and Rachel and the whole team were brilliant with him.
Wonderful staffVery helpful and caring 10+
Jillian Tiernan
23:44 11 Jan 21
I visited a few local vets to get an idea of their costs and set up before we brought Paddy home, however I found this clinic to be very professional, caring, and no-nonsense, straight up about what was needed and expected for my Cavoodle. Great service and value for money.
Amanda Slatter
04:18 05 Jan 21
I haven't personally dealt with them, I took my brother there for his cat, he was very happy with their services. They were the only vet open on a Sunday.
Miss Karma
01:50 06 Dec 20
Highly recommend! As a bit of a worry wart I really appreciate the kindness and attention to detail that the staff at Geelong West Vet Clinic so willingly give. Easy to book online, great communication and reasonably priced.
Fantastic service from reception right through to the Dr in the surgery. A Sunday appointment and I left the clinic feeling very comfortable that our little dog was going to be fine after a thorough assessment. We just moved to this area and the Geelong West Vet clinic will be our go to vet for everything in the future.
They are great and lots of help and a big thank you for the flowers that you sent me and my son.the staff there are so caring and helpful.
Tammy Fisher
08:01 20 Nov 20
I'm not normally one for writing reviews but Highton Vet Clinic honestly saved me and my dog. For the last year my poor girl has been put through the ringer of treatments and I was too foolish to question it because I'm trusting my vet who is a trained medical professional right? Oh how wrong I was. I brought her to Highton for a second opinion after some doubts in these "treatments" and they were so amazing and honest and I only wish I'd done it sooner rather than wait as long as I had. Will definitely only be using Highton from now on for all my furchildren. 5/5 stars is honestly not enough you saved her future and me from going insane with stress so thank you.
Wonderful with our nervous animals, knowledgeable and most importantly accessible when required!
Rachel Driscoll
00:58 30 Oct 20
First time going to the vet clinic in Geelong West, I usually go to the clinic in Highton. Same great service, they are great with my cockateil, informative, friendly and very reasonably priced. I couldn't imagine going to another vet clinic
Rhianna Gallagher
06:39 20 Oct 20
Olivia was great with Gypsy. Rachael is the best. Thank you . See you again next week for Gypsys next injection.
Rhona Fraser
04:51 12 Sep 20
OMG what brilliant staff and vets. Pity human doctors didn't treat us this way. So very caring and GENUINE.They looked after our boy so well.
Chris Brooks
09:55 03 Sep 20
Always a warm and professional experience.
Chris Bennett
08:54 30 Aug 20
I had never been to this vet before but had to take my very old sick cat in last night. Reception was nice and helpful, I booked an appointment easily and drove to the clinic, the vet that saw me was was very kind and gave me all the information that I needed. Sorry I can't remember the vets name but he was thoughtful and what was a sad night due to how sick my poor cat was, was made easier and by their professional manner. They did all this will be covid safe too. I would recommend this vet practice. Thank you
Ellen Dusek
02:06 20 Aug 20
Very compassionate and kind took good care of my cat
Great service nice and friendly they show great concern for.ur animals.welfare couldn't b happier
Julie Carter
08:15 11 Aug 20
Very happy with the service provided and would highly recommend the Geelong West vet to anyone who needs any form of pet care.Kind and caring staff who take pride in making you and for me my cat feel safe . The after care support is excellent aswell.
Craig Smith
00:52 07 Aug 20
Have been to both Highton and Geelong West Veterinary Clinics and both have been outstanding with their friendliness, care and compassion towards both patient and clients. I was very satisfied with the care/treatment my animals received. I just received a follow up letter asking how my Dog is doing and some goodies/vouchers. How lovely
such a compassionate and caring team!. great communicators pre, during and post surgery
Ross Healy
07:37 21 Jul 20
Very friendly and warm staff. Great knowledge and care factor for our two puppies. Very easy experience.
shaan blythe
03:16 03 Jul 20
The Vet & Vet Nurses were so good to us & our dog Siya! They were informative and supportive throughout . It was not a good outcome but they really did try to help our beloved Siya. I would highly recommend this vet for your pets as they are all so lovely. Thankyou to everyone ! X
Haylee Karangaroa
03:11 03 Jul 20
Great nurses, very kind and understanding. Receive vouchers with your first visit!, all round great clinic.
Layelle Jaafar
06:11 26 Jun 20
So lovely. Took my dog in late at night as I thought she had what looked like a tick, the vet nurse checked it out free of charge and was so lovely. Thank you, it's clear they care so much about every animal that comes through.
Lucy Missen
06:12 12 Jun 20
In a very distressing time with the sad loss of my dog of 18 years, this clinic was amazing and even has a personal touch that made our experience more palatable thanks soo much for your gift and kind words I'm spreading the word proudly.
Annie Ersch
10:22 12 May 20
The best vet clinic in town! Thank you to the amazing staff at this clinic for making our visit this week so successful! Such a stressful situation for our family and our dog and the care you gave us all could not have been better. I loved the phone call updates and photos you shared of our dogs day stay. So happy you moved into our neighbourhood 🙏
Gabrielle Connor
04:42 18 Mar 20
I went there for the first time cause my cat was seriously ill and i had to put him down in the end which was really upsetting and they were wonderful and much to my surprise today i got a beautiful bunch of flowers and a card from them from them
tracey maher
05:44 16 Mar 20
This is by far the best vet we've ever had! We are new to the area and had tried a few other local vets but we weren't impressed with any of them THEN we found Geelong West Vet Clinic and we couldn't be more thrilled! Everyone there is lovely, knowledgeable & passionate. The clinic itself is bright & clean. I was blown away by the level of customer service & care to detail! After our first appt they called me the next day to see how our dog was responding to the medication & if I had any questions. They really care about what they are doing and I couldn't recommend them higher.
Lara Elwin
05:17 11 Feb 20
If I could give more stars I would. I have been to many vets over Geelong and have never felt so confident as I do when I bring my pets in to HVC. Every vet, nurse, receptionist has been absolutely wonderful and very caring to our fur children. Our dog has had 2 knee surgeries and each time we always get a photo and an update sent via text. My cat is in there being treated for a snake bite and i get a text and phone call morning and night on her progress. They are all wonderful
Erin Costello
00:27 05 Feb 20
Best vets in Geelong that I've ever been to.
Sally Ersch
09:59 12 Jan 20
The staff at Geelong West Vet Clinic truly love all animals. The care, attention and love they have provided to Sav my much loved savannah cat goes well beyond any other vet i have used in the past. Glad to have found Jane, James and the team at Geelong West Vet Clinic.
Paul Collins
21:28 06 Jan 20
Highly recommend!! We visited after reading great reviews from others with birds. Then reception staff were just lovely, and Kristian was fantastic with one of our Muscovy ducks: very gentle with her, patient, took his time to be very thorough, checked the literature for latest evidence on appropriate treatment, and followed up with a phone call later. He even adjusted the room temperature for her! Brilliant. I also thought the pricing was reasonable - always a big help. Thank you so much Kristian and team!
Krystina Mossop
04:11 28 Dec 19
Highly recommend! 😍 the staff were so helpful Highly professional and caring. A BIG Thank you for making a stressful time stressless Merry Christmas love from Betty, Anne and most of all Tooty 🐱
Anne Salaviejus
21:44 09 Dec 19
Popped in for a quick check of our Staffy Frankie, worming, flea treatment and general health check. Super friendly, very professional and made Frankie feel relaxed as it's not her favourite place to be ..😂😂 great to be followed up with a few days later and we will definitely be making Geelong West Vet Clinic our go to Vet from now on. 👍👍
Robin Vetch
02:36 22 Nov 19
Great service, reasonable prices and excellent opening hours. I'm very happy to leave our dog in their capable hands 🙂
Laura Freeman
04:29 28 Aug 19
Our cockatiel was vomiting so we called the vet. The vet nurse spoke to me on the phone, had me describe symptoms and told me what to look out for. I ended up taking the bird into the vet the next day. Dr. Marg was amazing, very knowledgeable about (and good with) birds. The clinic called to follow up the next day and I was pleased to say the vomiting had already completely stopped. All in all a great experience and we will be going back.
Elizabeth Fagan
05:53 24 Jul 19
Great, comforting service! They really know how to put the owner's mind at ease when their pet is having a procedure done. Thank you and we'll done!
Leone Viljoen (Elle Vee)
12:03 18 Jul 19
Took my bird Scarlett (varied lorikeet) to highton vet clinic they were very attentive and knew what was wrong with her straight away! They had both of us reassured by the time we finished up. I would recommend this vet to anyone with a bird! Very professional.
Amanda La Praik
08:18 17 Jul 19
By far the best vet clinic I have ever been to! Highly highly recommend. Every vet is so kind, caring and concise. All other team from reception to nurses are also so helpful, welcoming and thoughtful. I am such a nervous cat Mum and often I call them for advice and never have they been impatient with me. They listen and give me great advice, and never rush me off the phone no matter how silly my worry is. They are open til 10pm every night which shows how important animals are to them, it gives me so much peace of mind to know they are there til late if ever something were to go wrong and I appreciate all the late shift workers so much! Take your babies here, there's no other vet like them
melanie jane
09:01 12 Jul 19
The vets are amazingly attentive and kept me informed about my rabbit while she had an overnight stay, including a check up call a few days later. I'm throughly impressed with their services and high level of care, will be returning customer for many years to come.
Jennifer Zdravkovski
04:42 01 Jul 19
Thank you for your help with Foxy. She is once again a VERY happy cat. All the best to all staff who helped our smallest family member get better.
Paul Collins
09:14 24 Jun 19
Very friendly environment and genuine love and care was given to our injured kitten. Extended opening hours were a blessing. They gave us great aftercare advice and stayed in contact to make sure our kitty's recovery was going well. Thank you so much, I highly recommend this clinic to anyone!
Audra Scott
03:49 14 Jun 19
We bring all our pets here. Dog, bird, rabbits, guinea pigs. The staff are gorgeous and they genuinely LOVE our pets and sometimes I think more than we do judging from the kisses our dog gets!
Funky Chick
14:09 07 Jun 19
I'm so impressed with the Highton Vet Clinic. I'm new to the Geelong area so a quick google search found these guys and I'm so glad I did. I called one night during their extended opening hours as I was a little bit worried about my newly adopted pup but they were more than happy to give me some advice over the phone, which led on to them assuring me a check up in the morning would be okay and not to stress about getting there that night. We booked my dog in the next morning and the vet, Kristian, was fantastic! Made my pup feel very very comfortable and loved in an often unfriendly environment. It was a very easy going visit and my little girl was in tip top shape. The next day I received a follow up call to make sure she was still doing well- another amazing point. And today in the mail I received a gift pack welcoming me to the clinic. To say I'm impressed with their service is an understatement. Would recommend to anyone.
Dakota Whitten
10:16 30 May 19
Excellent service, we needed "after hours" care for our dog but didn't necessarily need the emergency vet. The long opening hours meant we could get care for our pet and we were beyond happy with the service our dog Augie received.
Staff are wonderful including reception, nurses and vets however visits can be costly. Taz gets the best of care
Chris Saunders
11:24 10 Oct 18
A very warm and positive experience, my Cavoodle Yoshi and I were blown away by their attention and care ... from the front desk to their vet and nurses. I highly recommend this vet clinic.
David Stasiuk
02:33 09 Sep 18
We adopted a kitten and were so impressed with the entire process. We will bring all of our pets to this vet from now on!
Vet of choice for Capstan the golden deceiver (far from a retriever)
Brenden Caligari
03:05 14 Apr 17
Thank you so much for your wonderful care of my cat, Charlie, he was so uncomfortable he didn't sleep, he is now fast asleep and has been since he got back from seeing you
Pam Cockfield
09:31 05 Mar 17
Went to Highton Vets on the weekend as they were the only clinic open that didn't charge me extra for the weekend. The staff were friendly and the vet was straight onto my dog's problem and she's much better, I'm going to stay with them now and not going back to my old vet now.
Trish Williams
12:44 15 Jul 13
I have been using this Vet for the last 3 years and they have always been lovely and professional. I have a dog and two cats and all of my visits have been a pleasure. They send you reminders of vaccinations and give you great advice on keeping your pet healthy. I have no hesitation in recommending this vet clinic to anyone.
Erica Margret
10:34 09 Jul 13
Work with us
Join our team
Our Veterinarians, Veterinary Nurses and Support Team is everygrowing as the Vets Of Geelong brand continues to expand!
We live by our core values and have developed a strong clinic culture where animals come first, growth and ongoing learning is encouraged, and fun is guaranteed whilst providing exceptional customer service.
Find out more about our current opportunities below.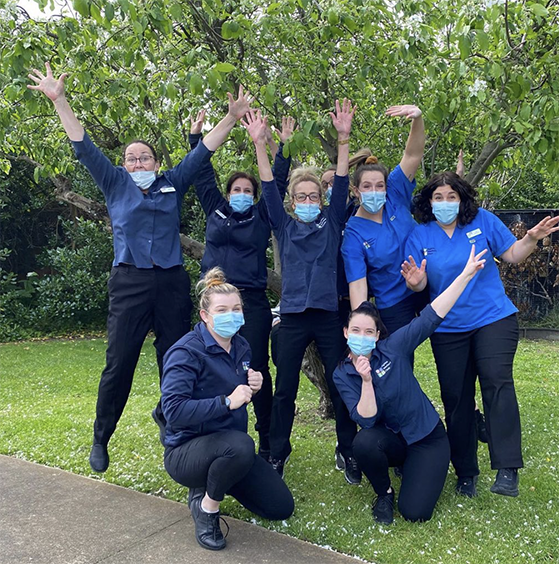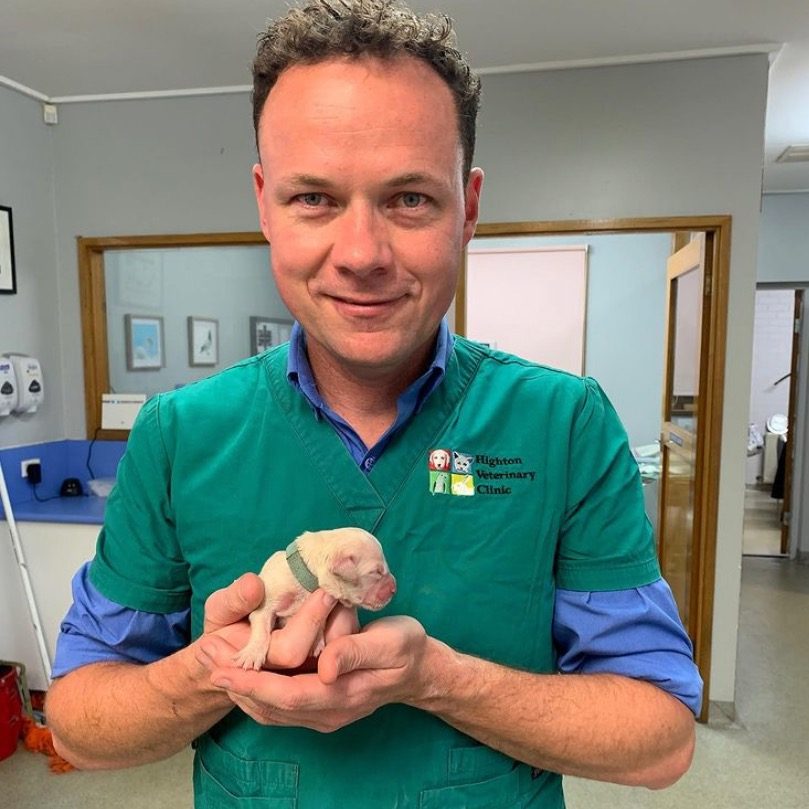 Dr James Tiernan
Veterinarian
BAppSc BVSc GPCert(SAM) CMAVA
James was raised in country Queensland. After growing up with lots of pets, becoming a veterinarian was a natural progression for James. Following graduation with a Veterinary Science degree from the University of Queensland in 2001 James moved to the UK and worked in several busy small animal clinics dealing with dogs, cats, and many other small furry patients that are common in the UK such as rabbits, guinea pigs, hamsters, gerbils, rats, mice and birds. Whilst in the UK James successfully passed examinations in a General Practitioner Certificate in Small Animal Medicine [GPCert (SAM)] through the European School of Veterinary Postgraduate Studies. This was extremely useful in helping James to further build his skills in small animal medicine.
After spending eight years in the UK, James returned to Australia with Jane. On returning to Australia, James spent a short period of time at the University of Queensland Veterinary Small Animal Hospital before moving to Victoria and starting employment at the Western Animal Emergency Centre based at Werribee which is part of the Melbourne University Veterinary Hospital in 2009.
In June 2010 James and Jane were very excited to take over ownership of the Highton Veterinary clinic; it had long been their dream to have their own clinic. They have enjoyed working with the very capable staff and meeting all the clients and their pets.
James' main interest is mostly in small animal medicine, especially emergency medicine. He also has a soft spot for cats (particularly British Short Hairs) and loves Cavalier King Charles Spaniels.
Outside of work James keeps busy with his young children Seamus, Niamh, Aislin and Declan and enjoys cycling and getting to the gym when he can. His pets Maple and Zuma, as well as his kids birds, guinea pigs, rabbit, bearded dragon, and fish keep him busy.
At the clinic you can see James for just about anything related to your pets health, but in particular general medicine and emergency cases, as well as all pocket pets.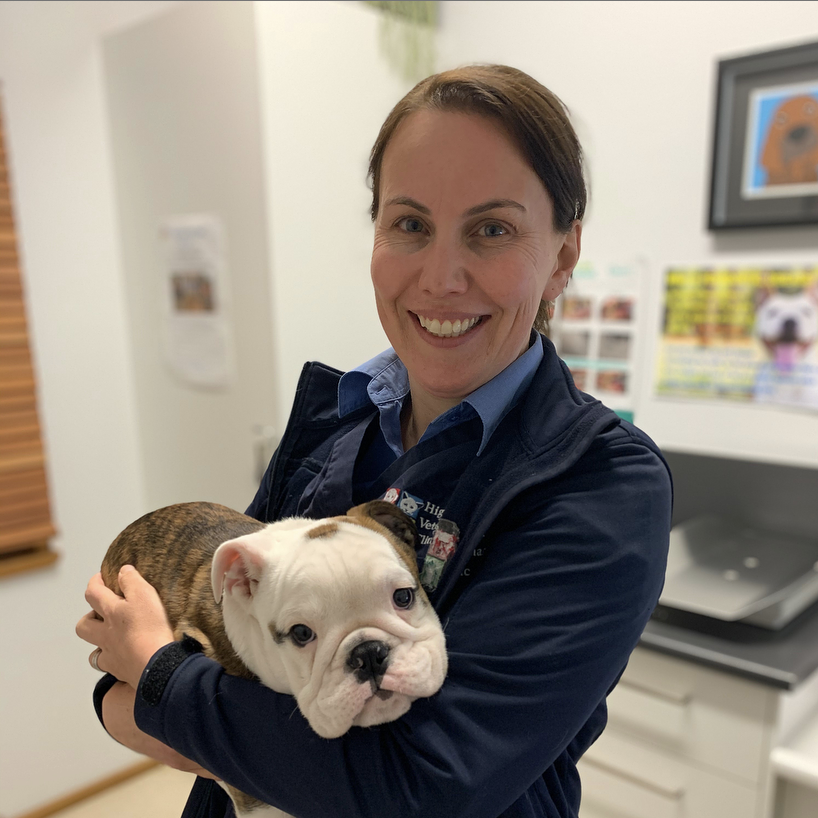 Dr Jane Tiernan
Veterinarian
Jane is originally from Drysdale and always wanted to be a veterinarian from a very early age after growing up surrounded by animals. She attended school in Geelong before starting her
Veterinary Science studies at the University of Melbourne. After attaining her Veterinary degree in 2000 Jane worked in mixed practice in Bendigo before moving to the UK for seven years. During her time in the UK Jane worked in several locum positions around England and Wales before taking a job at a busy Veterinary Charity Hospital in London.
After Jane married her husband James, they left the UK and moved back to her hometown Geelong and Jane took on a job at the Corio Veterinary Clinic before coming to Highton. Jane and James took over ownership of the Highton Veterinary Clinic in mid-2010.
Jane has done postgraduate studies in Small Animal Medicine and has been admitted to the Medicine Chapter of the Australian College
of Veterinary Scientists. She has also done additional study in small animal surgery with the University of Sydney Post Graduate Foundation course. Jane enjoys both small animal medicine and surgery cases.
Jane and James have loads of pets dogs, up until recently cats, guinea pigs, a rabbit, birds, fish, and even a lizzard. These days Jane spends more time with their young family than in the in the consulting room keeping their tribe of kids out of trouble Seamus, Niamh, Aislin and Declan.
At the clinic you can see Jane for just about anything related to your pets health, and particularly for soft tissue surgery.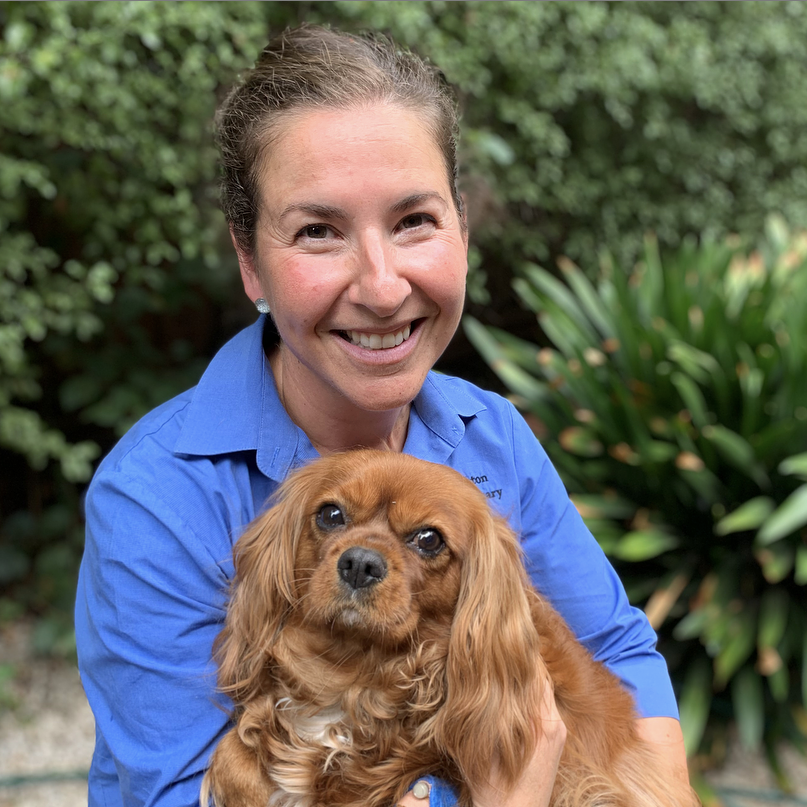 Dr Susanne Jacker
Veterinarian
Sue is a local Geelong girl, growing up in Highton. After finishing her secondary schooling in Geelong she went to the University of Melbourne and completed a Veterinary Science degree graduating in 1997. After graduation Sue moved back to Geelong and has now been working at the Highton Veterinary Clinic for nearly 20 years. During her time at the clinic she has gained a wealth of knowledge in the veterinary world and has developed a strong rapport with many of the clients and their pets. She has had the privilege of caring for some of
our clients' 2nd and even 3rd generation of pets. Sue is known for her bubbly personality and caring nature.
Sue's special interests are feline medicine and ultrasonography, and she has done numerous courses on these subjects. Having two Birman cats herself, she has been known to spend ages doting on these cats given the opportunity. However Sue enjoys all animals brought into the clinic.
Sue works part time and spends the rest of her time being Mum to her little son Jay.
At the clinic you can see Sue for just about anything related to your pet's health, but in particular ultrasonography and feline medicine cases.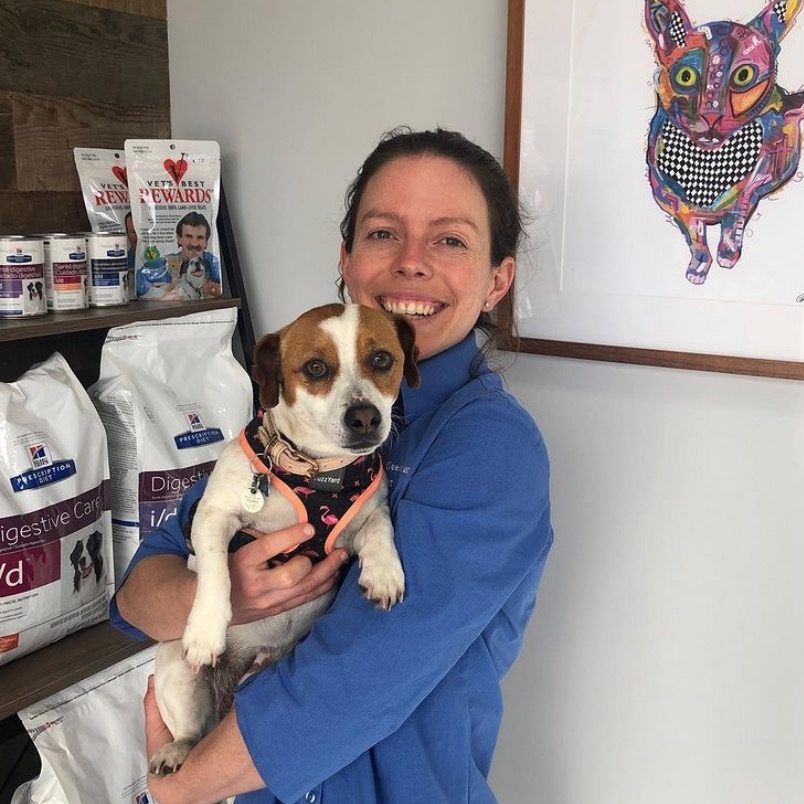 Dr Marion Vince
Veterinarian
BVMS BSc MANZCVS (SA Rad)
Marion is surprised at how time has flown by, apparently she has been vetting for almost 11 years now! She has been a large animal vet, a locum vet, an emergency vet, and for nearly 5 years she has been a Highton Vet! Continuing education is one of Marions passions, providing current treatment options to her patients is extremely important to her. She has recently achieved memberships in the small animal radiology chapter of the Australian and New Zealand Veterinary College.
Marion's fur family consists of a blue-eyed stunner of a deaf -dalmatian, an all-ears chihuahua-staffy cross, a rather anti-social fluff-ball cat and three powerful chooky ladies.
She loves the outdoors and thinks living in Geelong is the best, with lots of coastal adventures and the youyangs close by also.
At the clinic you can see Marion for just about anything related to your pets health, but in particular, she has a keen interest in emergency medicine and feline medicine and likes to keep updated on all the latest
research.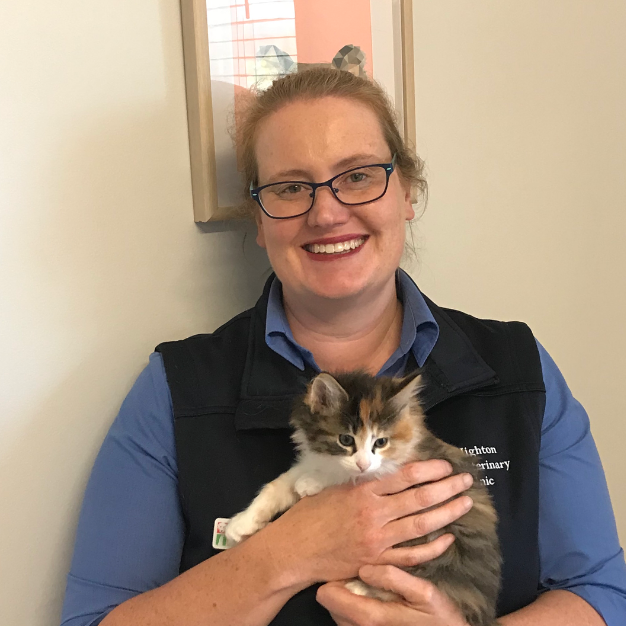 Dr Rachael Johnstone
Veterinarian
Rachael is another local girl, she has lived most of her life in Geelong. She graduated with first class honours from Melbourne University. Her first job was in Geelong Clinic establishing her skills in small animal practice. After a couple of years she took the opportunity to pursue her dream of dairy cattle practice in Warrnambool.
She spent over 2 years performing calvings in the wind and rain and loved every minute of it. Her next position was working in emergency medicine at the Western Animal Emergency Centre at the Melbourne University Vet Clinic and Hospital. More recently she has worked Saturdays part time while raising her family of four young children.
She has 2 young cats, Garfield and Nermal (named by the kids) and 3 backyard chooks. In her small amount of spare time she enjoys baking, especially with chocolate.
At the clinic you can see Rachael for just about anything related to your pets health, but in particular general medicine and emergency cases.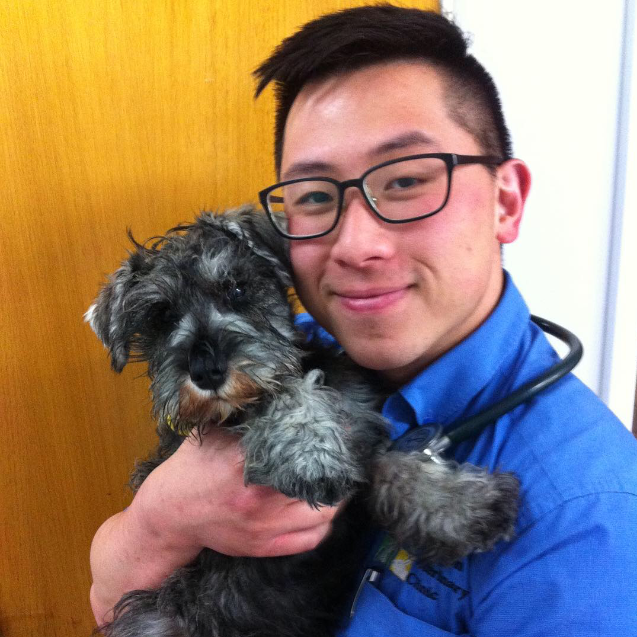 Dr Kristian Danorwayan
Veterinarian
Kristian has a long history of globe hopping and Geelong is the latest stop. If you ask him what his favourite thing about living in Australia is compared to other countries, he would tell you it's the meat pies and sausage rolls.
He studied marine science at Boston University, before completing his veterinary degree from the University of Melbourne. During his stint as a penguin caretaker at the New England Aquarium, he aspired to become a veterinarian. If you find yourself travelling to Boston, Kristian recommends going to Pinocchio's Pizza near Harvard Square. Kristian would eventually like to learn more about aquatic medicine, but for now he's interested in nutrition to help bring awareness about what to look for and why, when buying or making food for your beloved companion.
A good time for Kristian is watching TV with his three-legged cat, Peggy. His Mario Kart skills are slightly above average but will not decline a challenge if issued, and if you stroll along Barwon Valley Park you may catch him on certain afternoons having a throw around the disc golf course.
At the clinic you can see Kristian for just about anything relating to your pet's health.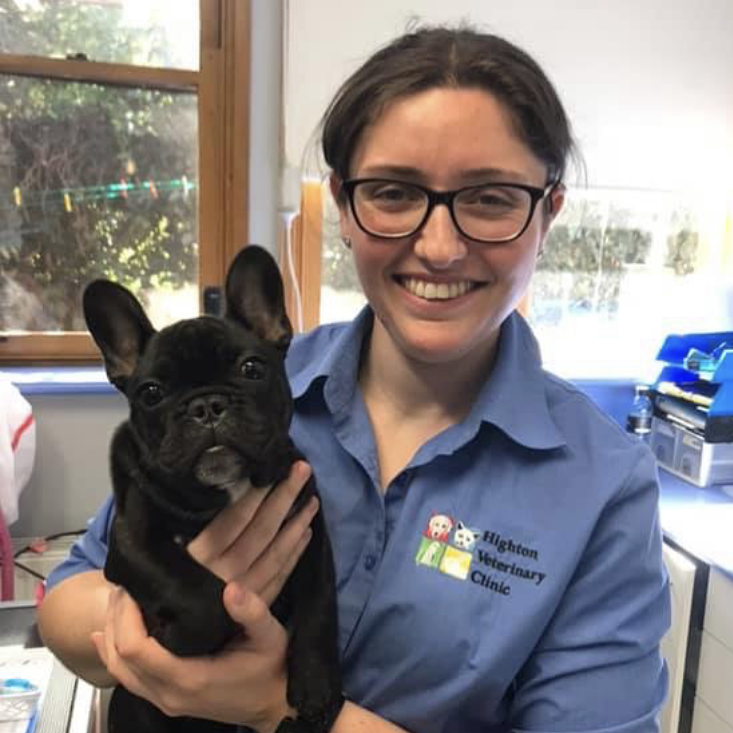 Dr Josie Martin
Veterinarian
Josie grew up in Werribee and wanted to be a vet since finishing high school. After completing her Bachelor of Science at the University of Melbourne, she then completed the Doctor of Veterinary Medicine at the same university. During her studies, she worked as a kennel attendant at Seeing Eye Dogs, where she fell in love with and adopted failed SED Labrador, Vera.
Josie enjoys practicing all areas of veterinary medicine and surgery, but is particularly interested in working up medical cases. Outside of work, Josie likes to listen to live music, eat out, read fiction, and relax at home with her partner and fur children Labrador Vera and ginger cat Cheezel.
At the clinic you can see Josie just about anything relating to your pets health.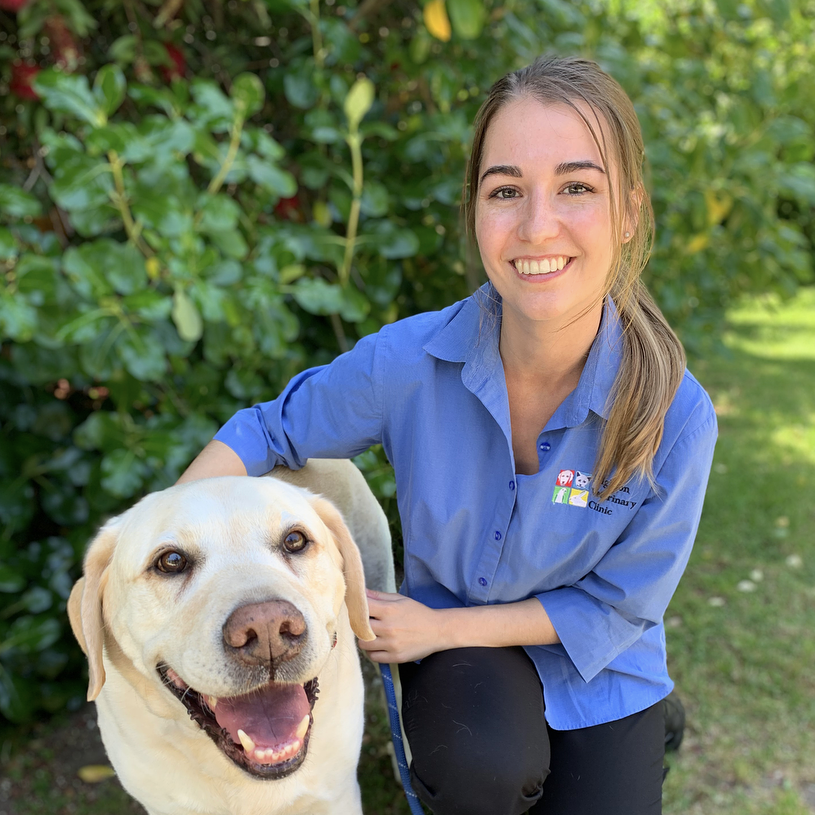 Dr Melody Winterhalter
Veterinarian
Melody was born in Switzerland and grew up in a variety of places, including Japan and Australia. She graduated from the Royal Veterinary College in London, and has recently moved to Geelong.
She loves all animals, and has a special interest in marine animals, especially sharks! As far as more common pets go, Corgis hold a special place in her heart.
Outside of work, Melody enjoys reading, eating cheese and exploring the Australian outdoors.
At the clinic you can see Melody just about anything relating to your pets health.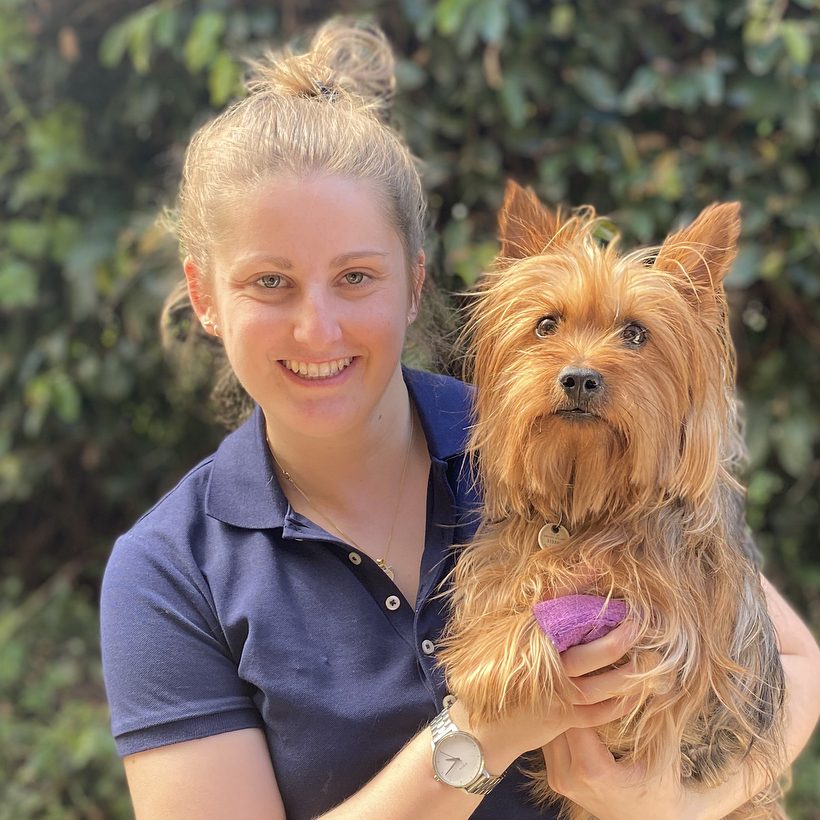 Dr Annie Carty
Veterinarian
Annie has recently moved to Geelong, and like several of her new colleagues has spent time working in the UK as a locum small animal vet and travelling around Europe. Annie grew up and went to school in Warrnambool, then after graduating from Melbourne University, then
spent several years working in a small animal clinic in Ballarat alongside Dr Luke.
Annie has loved her start to working with the Highton team and meeting all of the clinic's dedicated clients. She has a keen interest in all surgical cases and is planning to hit the books for further studies in 2021 to accompany the experience the varied surgical caseload Highton Vet offers.
Outside of work Annie likes to keep a busy schedule of drinking coffee, exploring local beaches and following Geelong during footy season. Annie is owned by two foster-fail cats Larry and Reg, whose hobbies include climbing curtains, ruining indoor plants and meowing at 6am for food.
At the clinic you can see Annie just about anything relating to your pets health.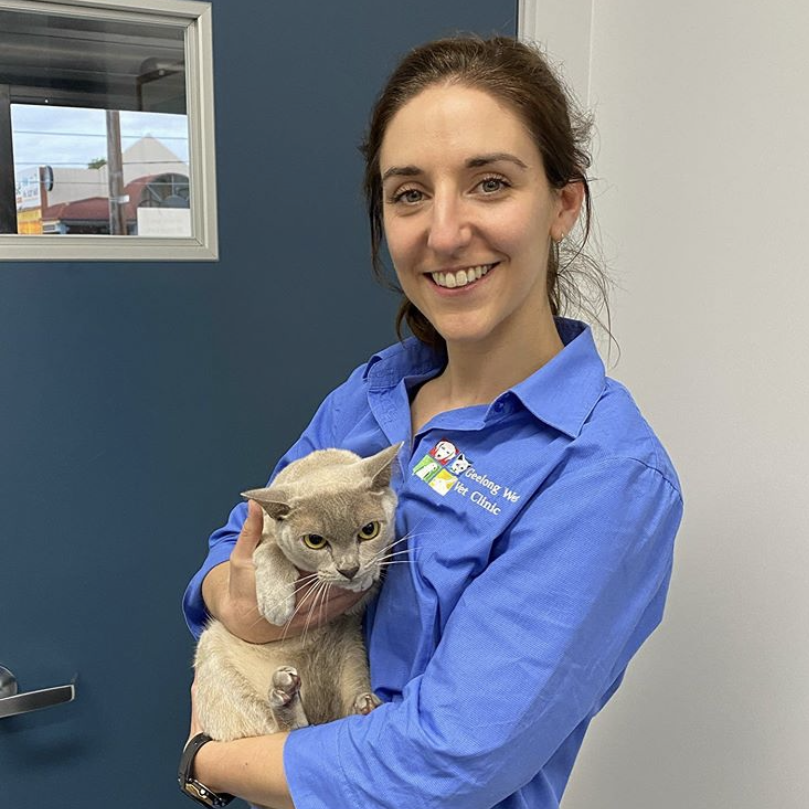 Dr Rachel Hamill
Veterinarian
Rachel grew up in Melbourne and has always wanted to be a vet. After graduating from veterinary science at the University of Sydney, Rachel moved to New Zealand to pursue an interest in mixed practice, and spend time working with some of her favourite animals, cows. After 3 wonderful years in New Zealand, Rachel was ready to see more of the world.
She moved to the UK and worked in both mixed and small animal practice. Most recently, Rachel has focussed on developing her companion animal clinical skills, and has an interest in small animal medicine and critical care.
Rachel is excited to return to Victoria after being away for over a decade, and is now joined by her kiwi partner, Nick, and her Kiwi cat, Bilbo. In her free time Rachel loves hiking and getting out into nature.
At the clinic you can see Rachel just about anything relating to your pets health, in particular she loves emergency medicine.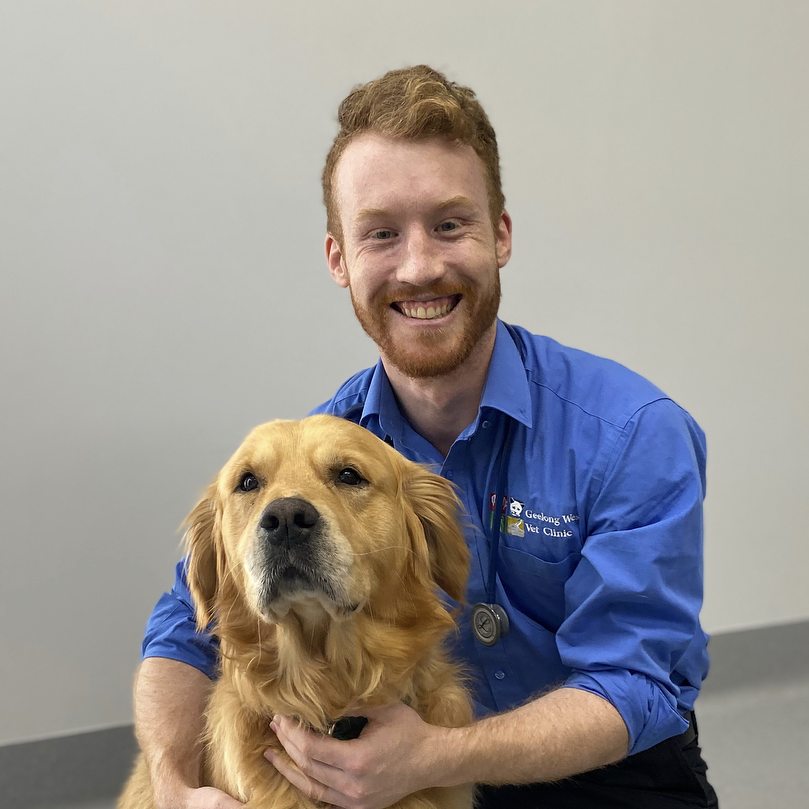 Nick grew up on a dairy farm in New Zealand. He was surrounded by cows, horses, dogs, cats and rabbits and wanted to be a vet since he can remember. He studied at Massey University in NZ where he completed both a Bachelor of Science , majoring in Animal Science and a Bachelor of  Veterinary Science.
Nick worked in New Zealand mixed practice for 4 years. During this chapter of his life he met Rachel. They decided to see more of the world, so left NZ to go and experience vet life in England. Nick really loved his small animal work in the UK especially the variety of animals that are loved by owners. As well as cats and dogs Nick got to work with rabbits, guinea pigs, chickens, rats, bearded dragons, ferrets, tortoises and many more.
Out of work Nick enjoys dancing west coast swing, a style which he will be more than happy to demonstrate, playing the guitar, snowboarding and spending time with friends and family.
At the clinic you can see Nick just about anything relating to your pets health.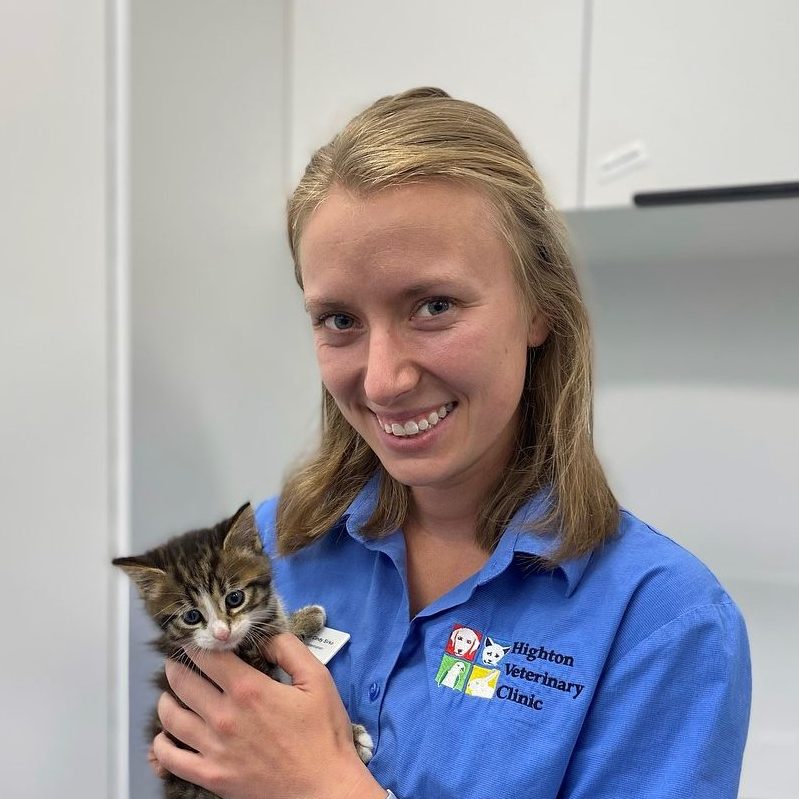 Dr Cindi Sirko
Veterinarian
Cindi grew up in a small town in the United States, and spent her summers at her grandparents' hobby farm filled with dogs, cats, chickens, ducks, goats, sheep, and more! She has always wanted to be a vet, and got her Bachelor of Animal Science from Southern Illinois University. Following that she made the move to Australia to complete her DVM at The University of Melbourne.
She recently moved to Geelong and is still exploring everything this great area has to offer, the beaches and the proximity to good hiking in particular. Her and her partner have one fur-child, a Labrador cross Kelpie named Helio.
Cindi has interests in preventative medicine and generally keeping your pets happy and healthy.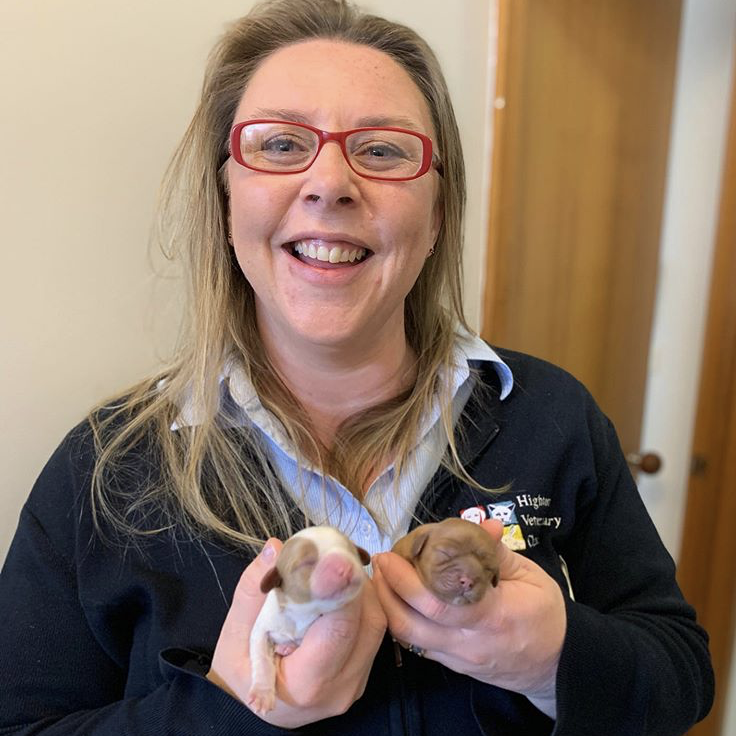 Jennie Deckker
Practice Manager
Jennie says she's always busy however promises she'll update you soon!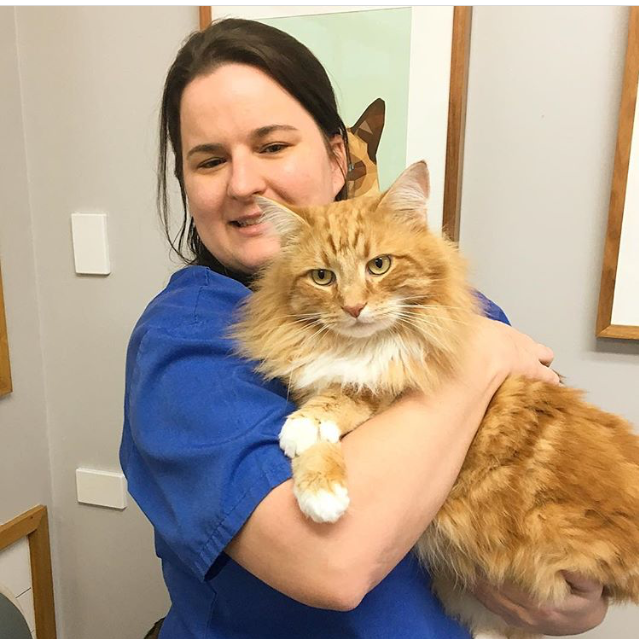 Melissa
Operations Manager
Melissa started her veterinary nursing in Portland in 2001, before moving to Geelong in 2006 and starting at the Highton Veterinary Clinic. Apart from her duties as the Operations Manager, Melissa enjoys nursing hospital patient and coordinating the kitten adoption program.
Her pets include the charming William and Ernie who where previously Clinic cats, as well as Thomas. Melissa is an ardent pet lover and during the spring and summer months she is a foster mum to unwanted and orphaned kittens, looking after them until they are big enough to find good homes.
Melissa has been fantastic with caring for the kittens that come through the clinic and looking after them until they are able to be adopted through our Adoption program.
In November 2012 she was awarded the Cenvet Nurse of the Year 2012 for her dedication to the profession of Veterinary Nursing.
Outside of work Melissa enjoys all things photography.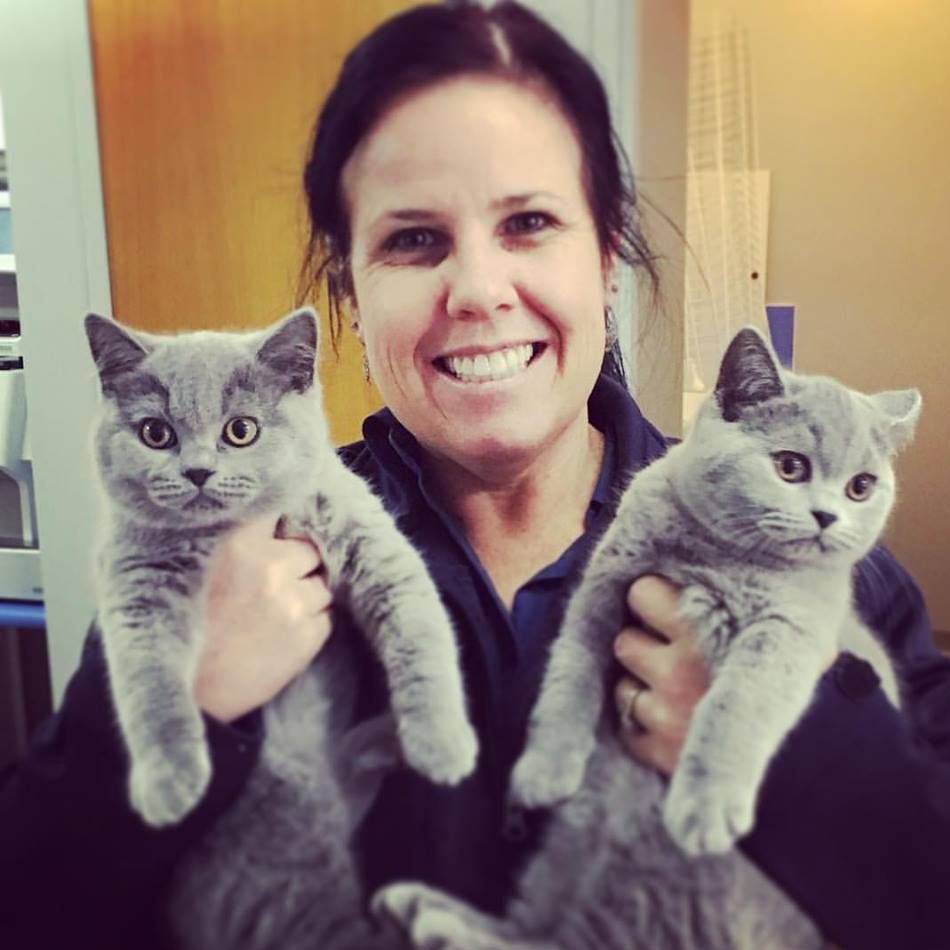 Jo
Nurse and Reception Manager
Jo became a fully qualified Veterinary Nurse in 2009 after some years spent in dog grooming and as a wildlife keeper at a sanctuary.
Since October of 2018, she has been the Nurse Manager for Consult and Reception, so you can rely on Jo for the smooth running of our
front-of-house team.
Jo loves travelling overseas every year, and she also enjoys hiking and visiting wineries with friends on weekends spent away.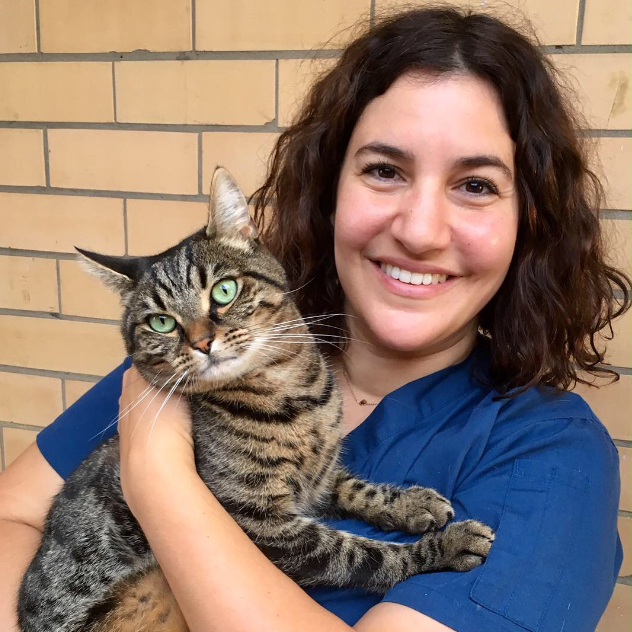 Laura
Veterinary Nurse Superviser
Laura is originally from Shepparton and has done a lot of travelling in her past. It was in 2004 in New Zealand whilst driving in the pouring snow, she saw a cute Border Collie in a ute speckled in snow where she had an epiphany she wanted to be a vet nurse.
Laura has volunteered in Thailand at an animal rescue centre, locumed at clinics in Melbourne and worked in Tweed Heads near the beach. Laura's passion is caring for hospital patients, dealing with critical patients and nursing your pets back to full health.
Outside of the clinic Laura's passions are cooking, spending time with her two cheeky cats and singing and playing bass and guitar in her
two bands.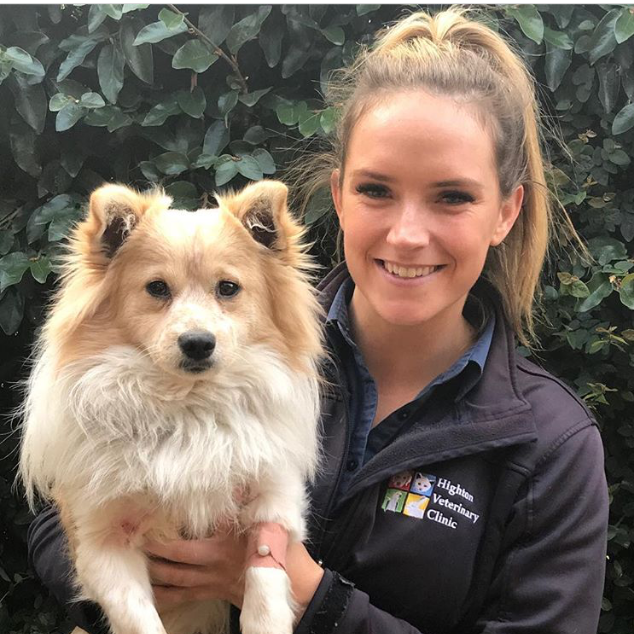 Jemma
Veterinary Nurse Superviser
Jemma has been nursing at Highton Vet Clinic for 5 years after graduating in November 2016 with a Certificate 4 in Veterinary Nursing.
Jemma enjoys all aspects of her nursing role, especially assisting the vets in surgery, and in nursing sick patients back to health. Jemma has three gorgeous dogs, Billy, a German shepherd, Lulu the spoodle, and Willow a groodle, as well as a cat named Kiara.
Outside of work Jemma enjoys catching up with friends, playing netball, running and taking her dogs to the beach.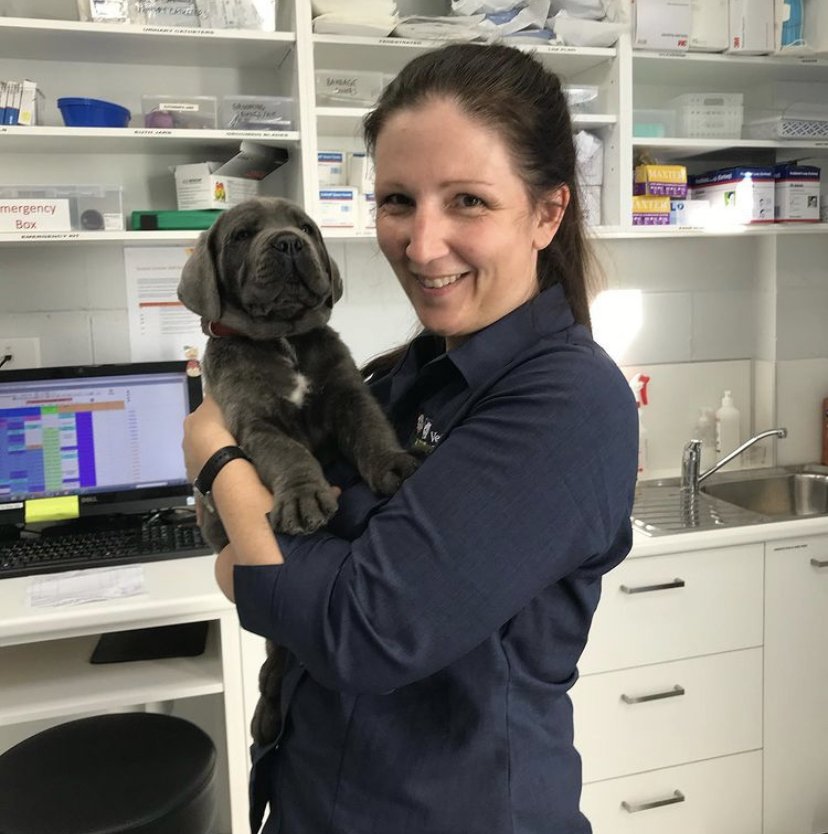 Sarah
Head Nurse Geelong West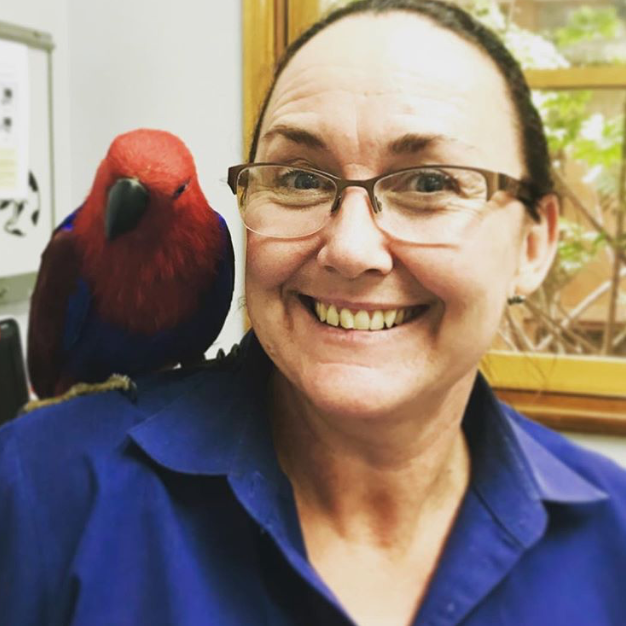 Simone qualified as a veterinary nurse in 1986, and is often quoted as saying she loves veterinary nursing so much she would work for free!
Kept busy with her family and pets, Simone is very experienced in caring for your pets and passing on valuable advice for owners. Simone loves to chat so she is always happy to answer any queries clients may have and to pass on tips from her wealth of knowledge.
Simone has a soft spot for Pugs and has bred several litters. Currently she has three pugs named Bronte, Poppy and Remi and cat named
Barry.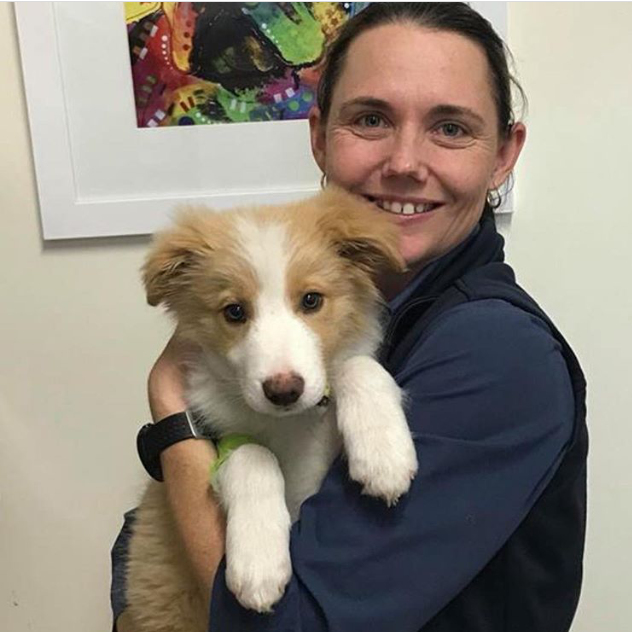 Tania is loving nursing as a profession after becoming qualified in November 2014. She has a passion for all animals especially pocket pets and small dogs.
Tania has 2 Chihuahuas, Barney and Jedda, a cat named Milky, and a bearded dragon named Pogo. When not at work, Tania enjoys spending time with her two children, going to the gym, running and hanging out with friends.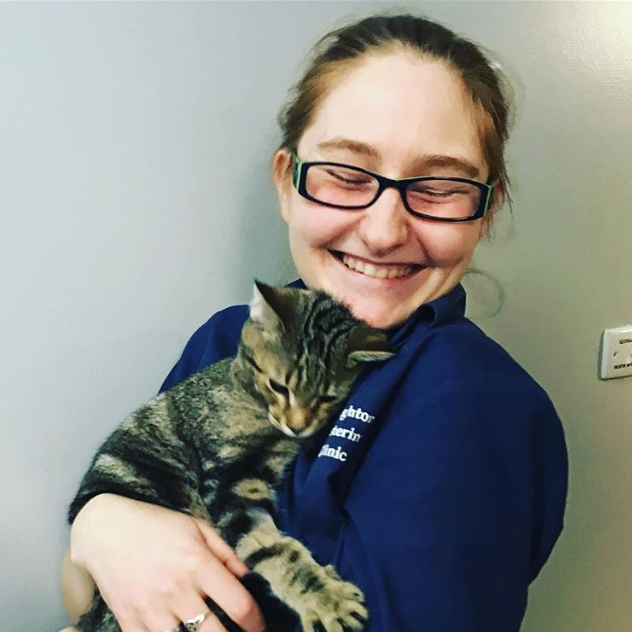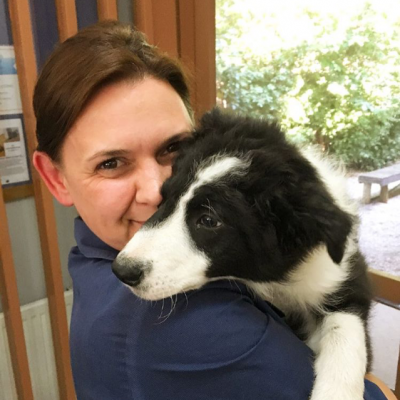 Louise has been nursing since 2003 and became fully qualified in 2006. She is also a registered microchip implanter. Her biggest love in Veterinary Nursing is routine and emergency surgery and she has a big soft spot for geriatric patients.
Louise likes to undertake regular webinars to keep up to date with all the current 'ins' and 'outs' for nursing to ensure that she is looking after your pets to the best standard.
When not at work you'll find Louise up in the mountains hiking or snowboarding, or in the garden or somewhere outdoors. Louise has a very spoilt Border Collie named CJ.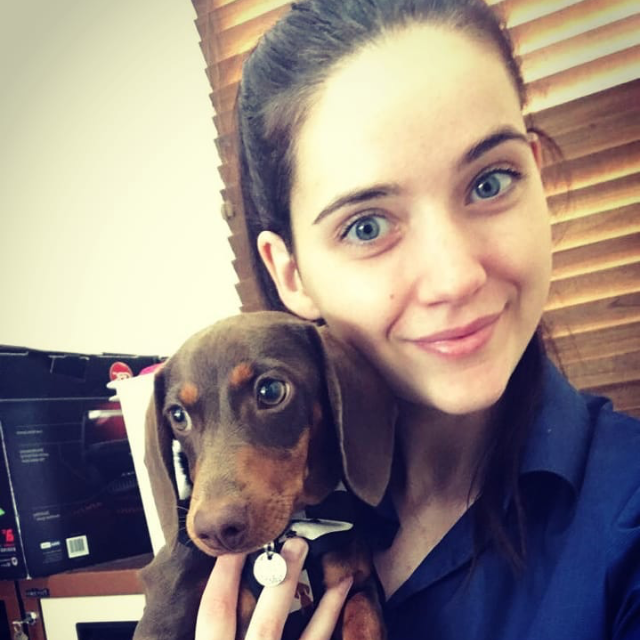 Somer has recently completed her studies in Veterinary Nursing. She is very passionate about all animals and has a keen interest in surgery
and hospital patients' cases and loves nursing patients back to health.
Somer is known as the crazy dachshund lady of the clinic. Her miniature dachshund, Sonny is her absolute world & when not at work you can find her spending time with him, her partner & friends.
Outside of work Somer also loves sports, especially basketball and netball.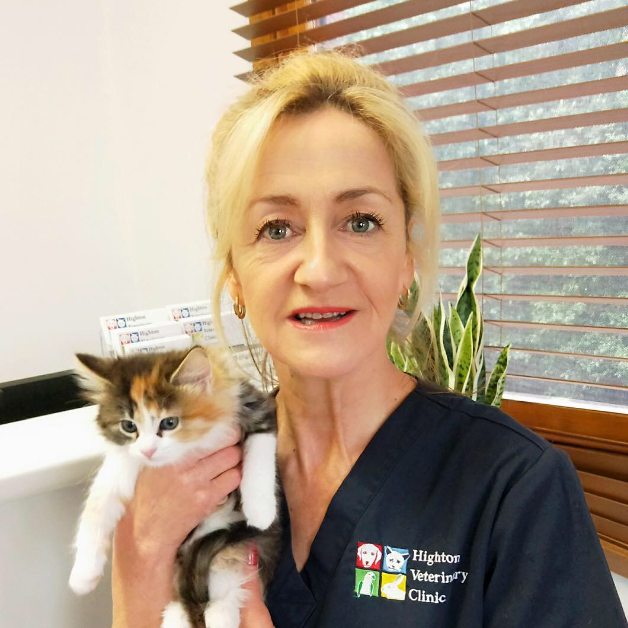 Annie works part time at the Highton Veterinary Clinic and thoroughly enjoys veterinary nursing.
Being little herself, Annie prefers the smaller
dogs and she has a little Papillion called Paris, who although small still have lots of attitude.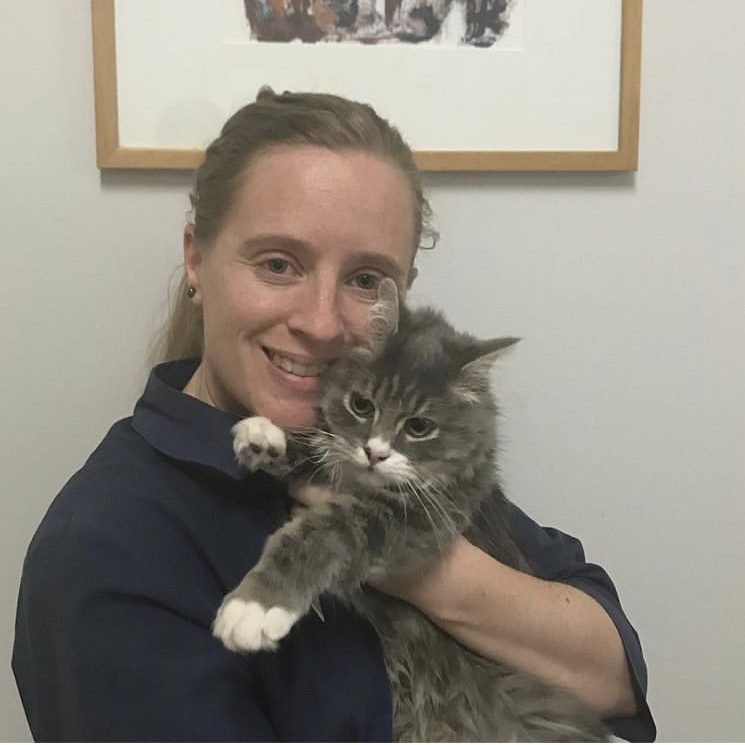 Naomi has been a veterinary nurse for 10 years, working in both emergency and general clinic. She enjoys medicine cases & nursing your pets back to good health.
Naomi also has a keen interest in nursing wildlife, and enjoys socialising kittens during the busy kitten season. Naomi is mum to two cats Eric and Flynn and can often be seen taking Eric for a walk on his harness.
In her spare time Naomi enjoys hiking, camping and gardening.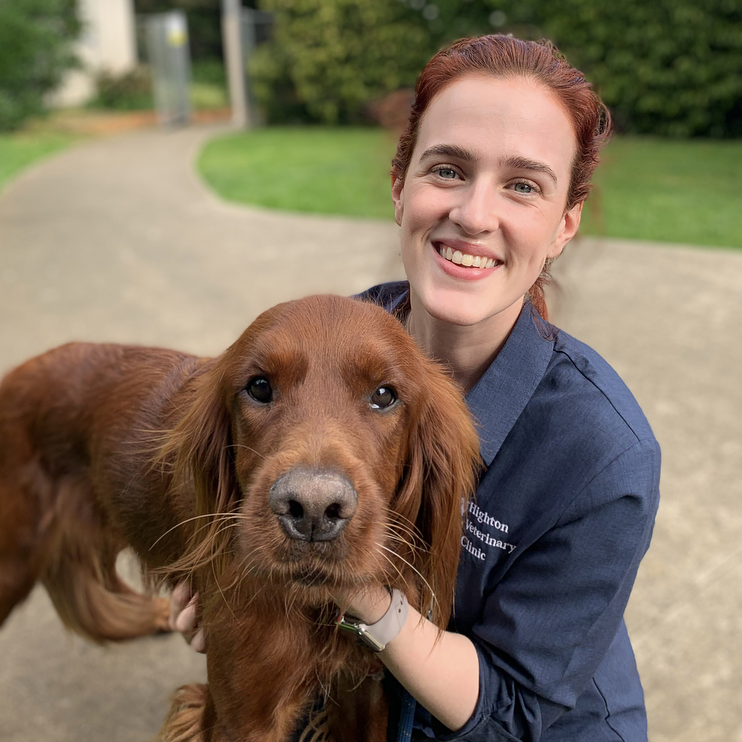 Karryn joined the team at Highton in July 2019, she has been working in practice since the beginning of 2016 and completed her veterinary nursing qualification at the end of 2017. She loves all aspects of the job but has a particular interest in surgery and caring for our feline patients.
Karryn comes from a family of cat-lovers and is Mum to two cats; a Devon Rex, the love of her life, named Theodore and a special-needs Burmese named Trixie. She and her husband have recently adopted a Whippet named Stella and are looking to find her a doggie sibling in the near future.
When she's not working, Karryn loves to spend time with friends, go out for brunch, binge-watch a good TV series, work out at the gym and walk her dog. She has a bit of a flair for interior decorating and if she has time, she also loves to bake!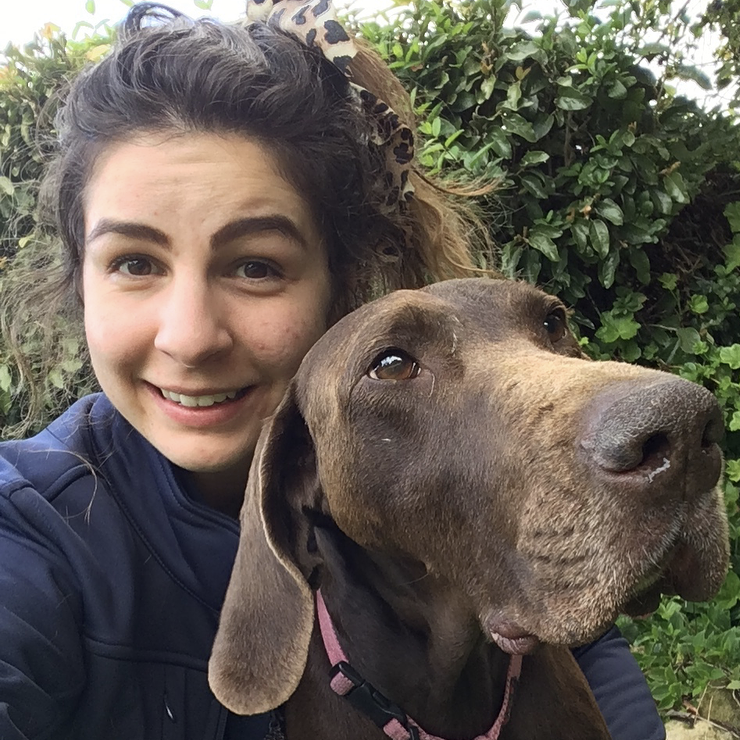 Michelle joined the team at highton in August 2019, she has been nursing in general practice since 2016 and was previously working at GAWS 2 years prior. She has an interest in surgical & medicine cases and has a big soft spot for geriatric patients.
Michelle is known as the crazy border collie lady. Her 2 border collies Indie & Luna are so spoilt. She spends most of her time training Indie in agility, Luna in obedience and taking them out on adventures. Her furr family does not end there though, she also has cats, Dharma, Agnes and Phoenix as well as an eclectus parrot Axle.
In Michelle's other spare time she enjoys yoga, gardening and travelling overseas with her Fiancé.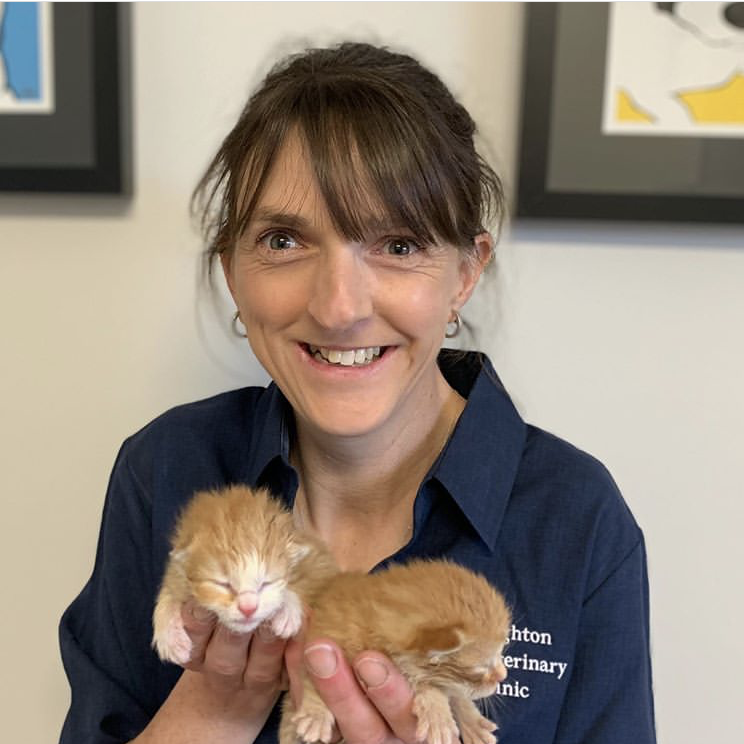 Stef joined Highton Vet in 2019 after she wanted to branch out and learn new skills. Stef has spent the past 3 years at the Emergency Centre in Geelong and 12 years prior to that at the University of Melbourne in Werribee working in the intensive care unit.
Outside of Emergency Medicine, she has a special interest in radiology and toxicology and is looking forward to creating a relationship with the Highton clients.
When Stef is not at work, you will find her looking after her two daughters, Border Collie Stella and 4 chickens Dixie, Alice, Lilly & Philly. Stef loves to travel off the beaten track and spend time away in her camper trailer and would one day love to live on an outback cattle station.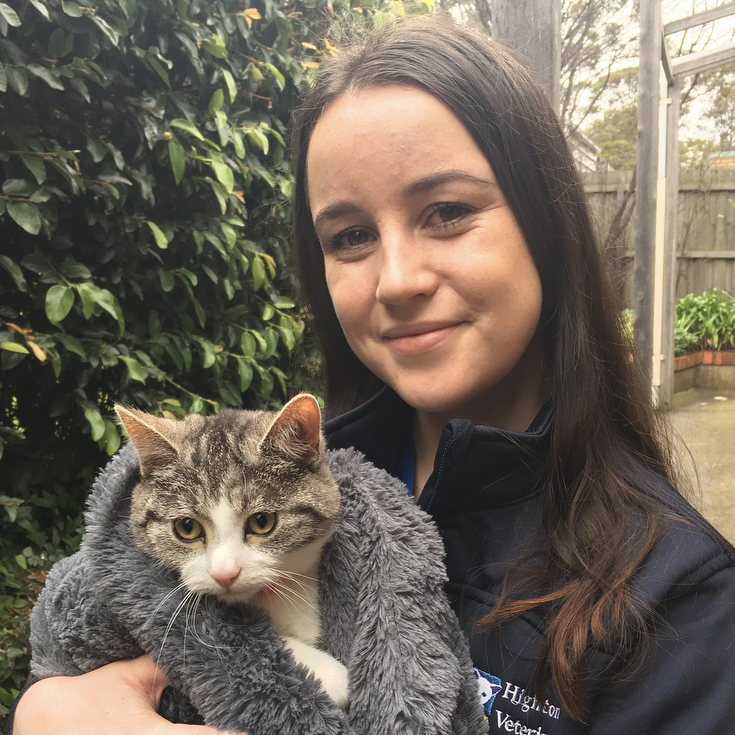 Olivia started at the clinic in June of 2018 and commenced her Certificate 4 in Veterinary Nursing in 2019.
Olivia developed her love for pets and wildlife through previous roles at Werribee Zoo and as a pet shop attendant.
Olivia has a spoilt dog named Harry and a new cat called Bean. Outside of work Olivia enjoys baking cakes and spending time with her friends.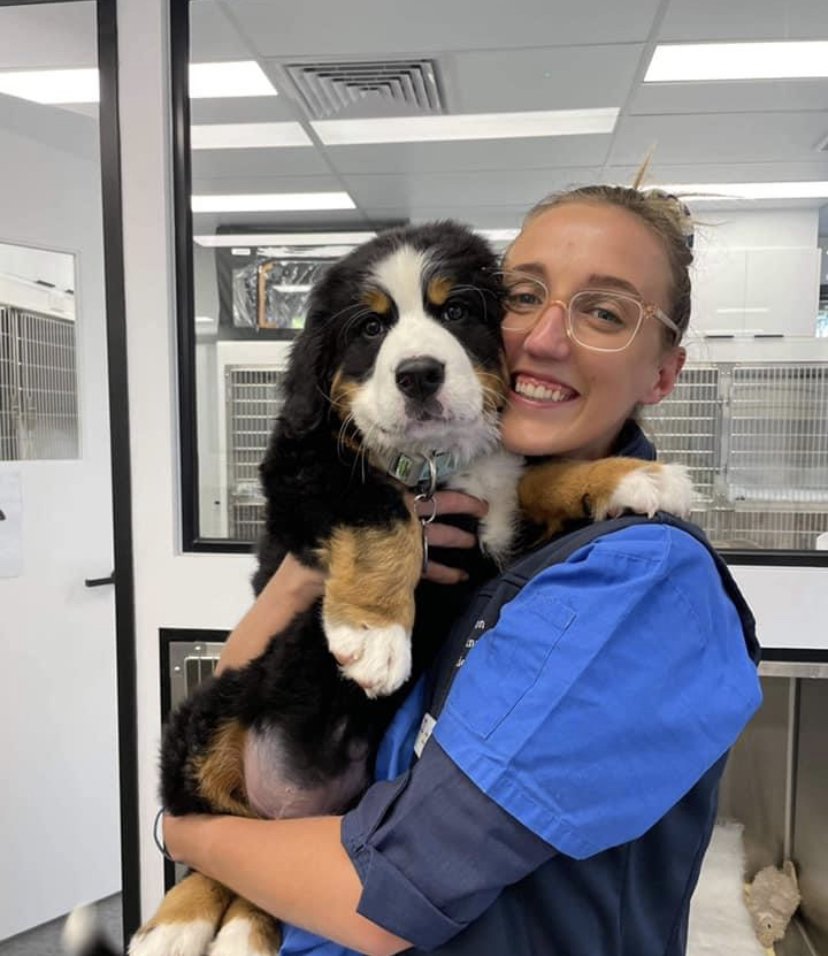 Annabel started off in the veterinary industry as a kennel hand when she was 16, and she immediately fell in love with veterinary nursing and the rest is history.
Annabel currently has two Labradors, Lottie and Lenny, a ragdoll called Gigi and throughout the year she also fosters kittens and dogs, which she finds very rewarding the joys of pet ownership. As a Veterinary Nurse she finds the best part of nursing is when she has the one on one care and love she can give each patient that walks through the door. She also enjoys building a relationship with both animals and owners. Annabel enjoys continuing to study, completing courses to further her knowledge in her spare time. 
In Annabel's spare time she likes to play netball and spend time with her family, friends and her fur babies.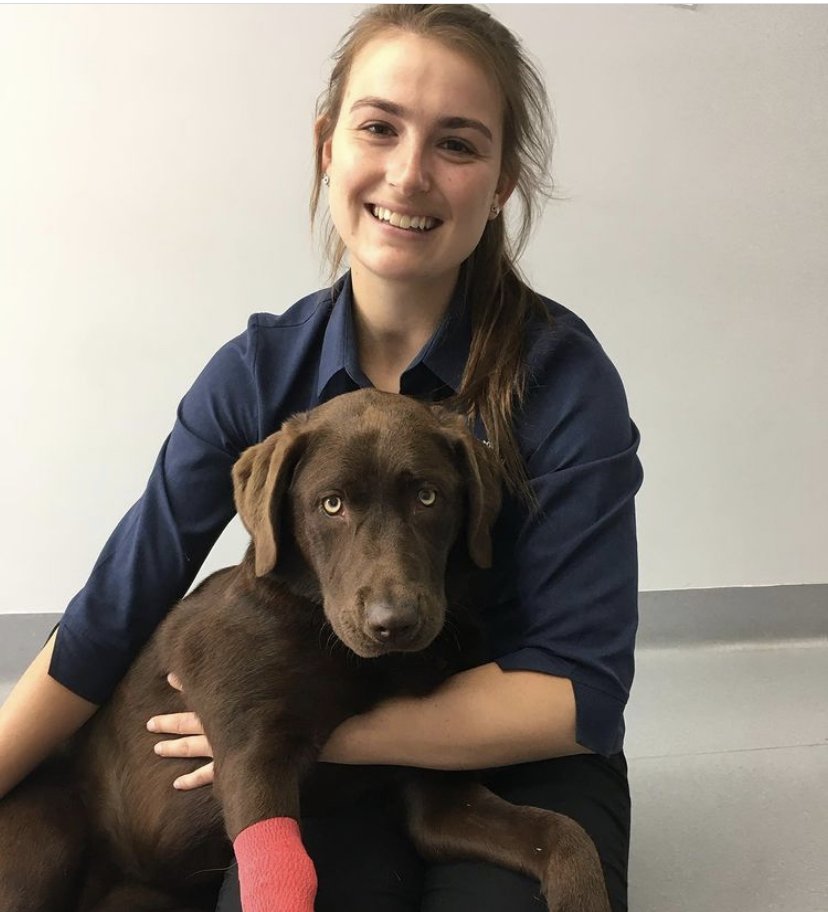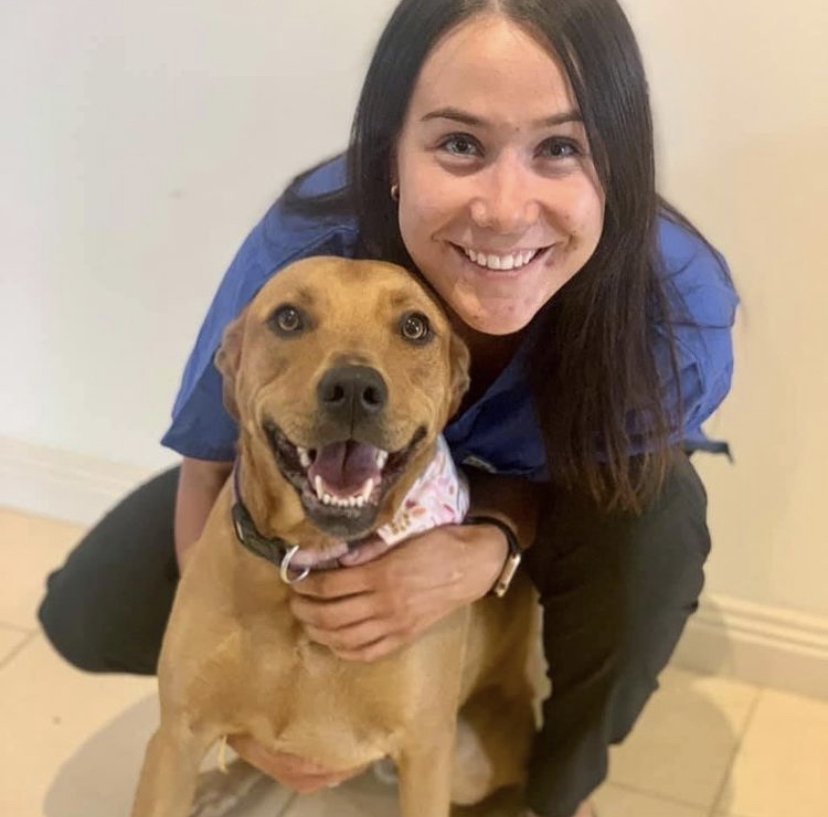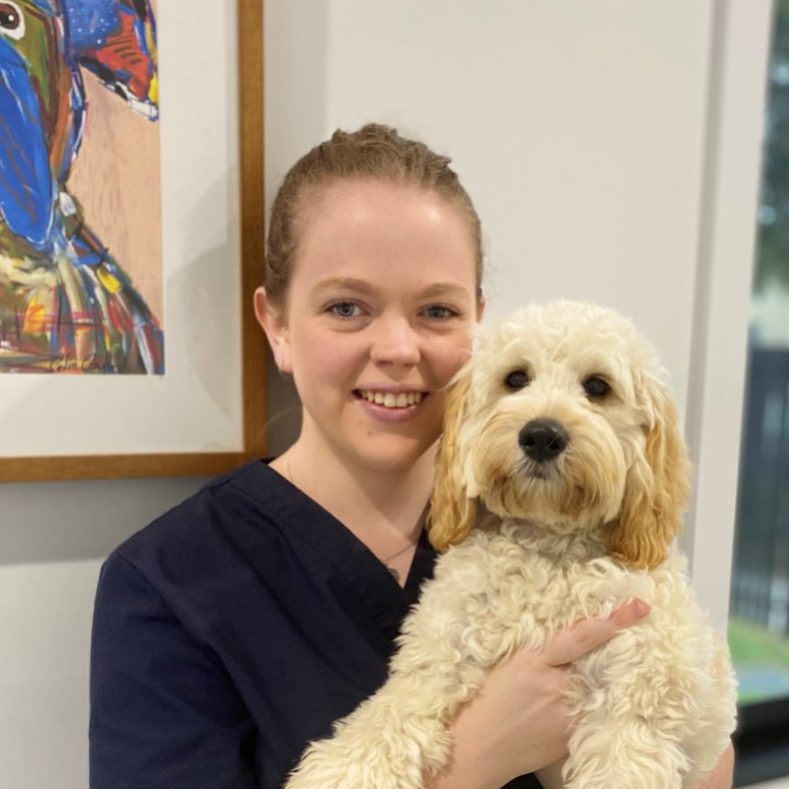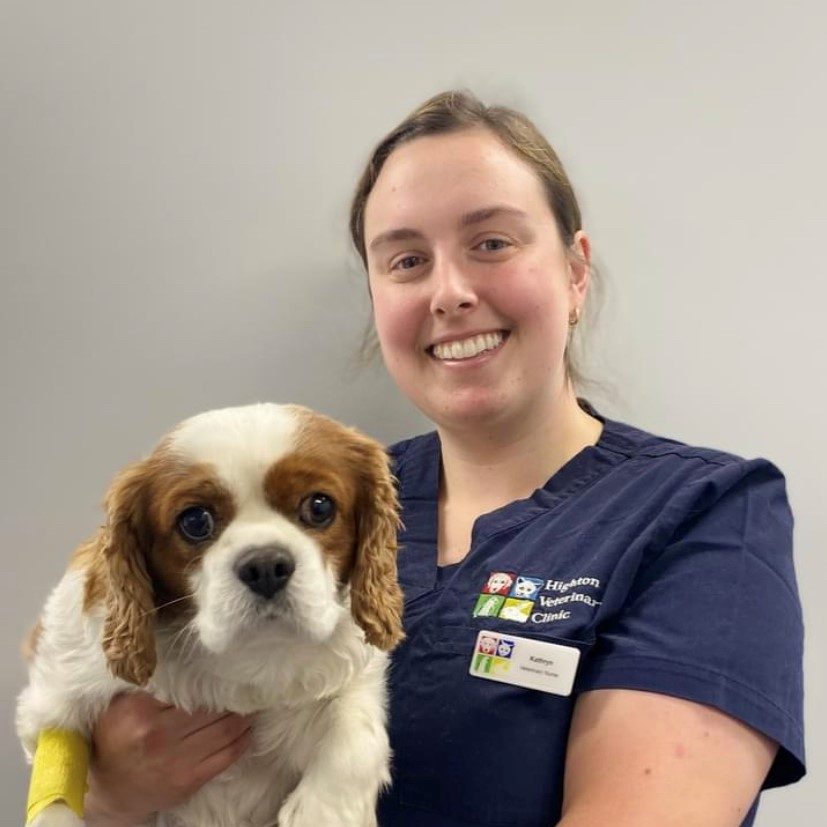 Judith
Administrative Assistant
Judith says this is definitely the most interesting of all the jobs she's worked in! She says it's not just the great Clinic staff members but especially the patients and their owners that have really made this a job she loves!
In late 2016 Judith moved from what had been her main role in reception to looking after admin in the clinic, but you will still her in reception from time to time and at weekends.
When she's not at work Judith enjoys yoga, and travelling and hiking. Her most recent trip combined both of these with climbing in the
Himalayas in Bhutan.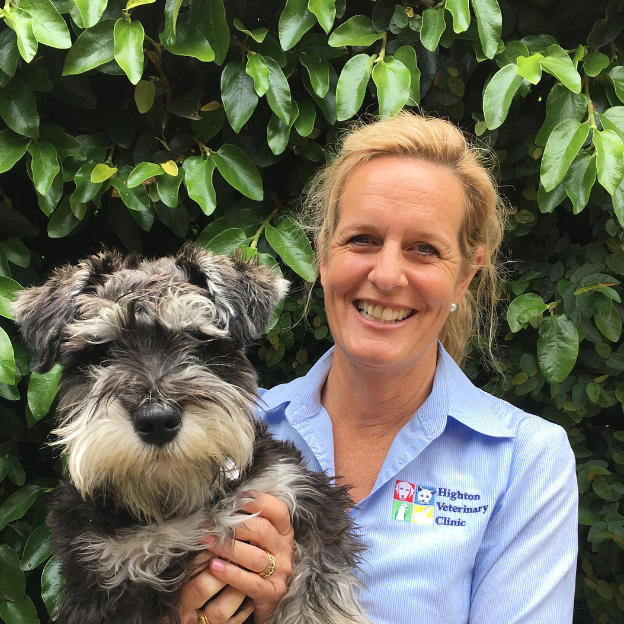 Robyn joined the team at Highton Vet Clinic in January 2018 as Receptionist. Robyn had this to say, 'I love my job at Highton Vet Clinic, It really is my dream job, working with great people and the wonderful animals we see on a daily basis'.
Robyn has always had a love for animals, big and small. She and her husband share their home with, 4 horses, 2 Kelpies and and even an adopted cat from Highton Vet called William.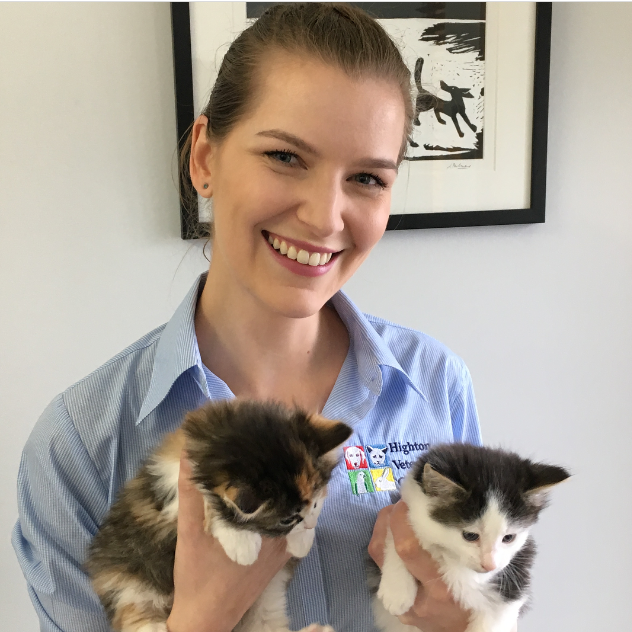 Bridget was born in Bendigo, moving to Geelong when she was in primary school. She started at Highton Vet Clinic in October 2018. She loves working at the clinic meeting the array of different pets and their owners.
Bridget loves travelling to new places and having adventures, however enjoys coming home to her fur babies just as much!
In her spare time Bridget enjoys cooking, crochet and bush walking.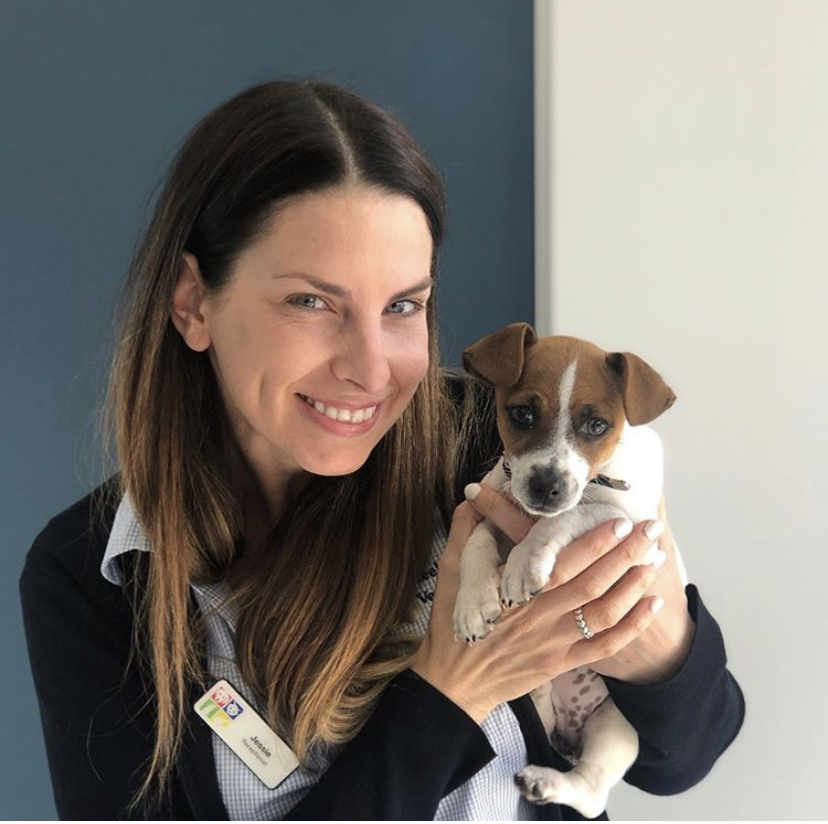 Jessie started her Veterinary Receptionist career at Highton Vet Clinic team in 2018, and when the opportunity arose to work at Geelong West Vet Clinic she jumped at the prospect of the new project.
Jessie was born in Geelong and grew up in Ocean Grove where she had a menagerie or guinea pigs as a child. Jessie has 2 Dogs currently called Snow and Pullthru who are two cheeky Jack Russell's.
Jessie loves the vast different range clients coming through the Vet Clinic doors. Such a wonderful environment to work in and get to see everyone's furbabies.
Outside of work Jess enjoys a good coffee, hanging out with friends, making and drinking cocktails and taking her dogs down to the beach when she can.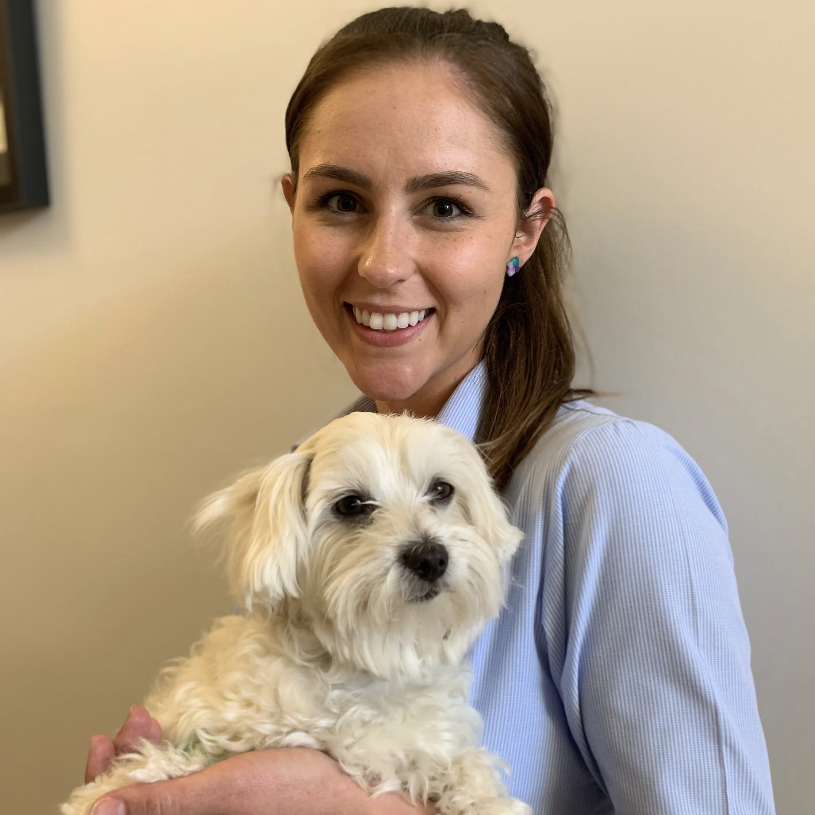 Originally from country South Australia, Bec has been calling Geelong "home" for the last 4 years along with her husband and their happy little Staffy, Wilson.
Next to her family and friends, Bec's great loves in life are animals and chocolate, which is why she divides her working life between her new receptionist role at HVC and her other role as a chocolate maker at a local chocolate factory.
Bec likes to spend her leisure time watching movies, attending live sport and music, and any activity that involves a cheese platter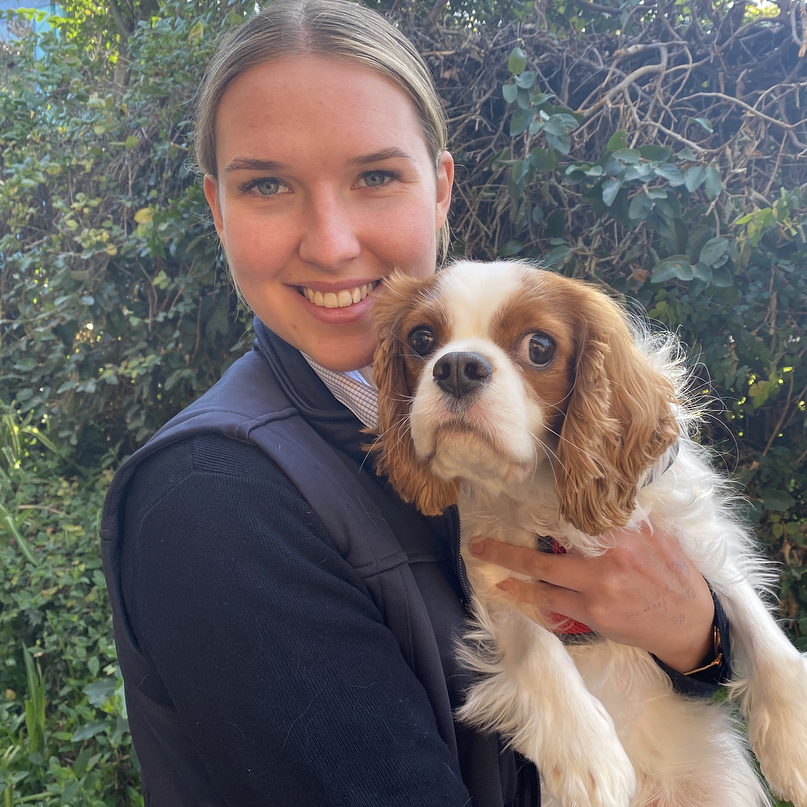 Molly is originally a country girl from Watchem, however she essentially grew up in Geelong since a young girl. She has grown up surrounded by animals all shapes and sizes, hence her passion for my job at the clinic.
She love getting to know clients and their beloved pets. You could say working with animals is in her blood, Molly is
following her Mum, Simone's footsteps, one of the wonderful nurses at the clinic.
Molly too a tad Pug crazy like her mother and loves Arriving coming home to cuddle her adorable Pug Remi.
Outside of work you'll find her either at the beach, drinking wine or eating "Avo smash" at the local cafe in the region.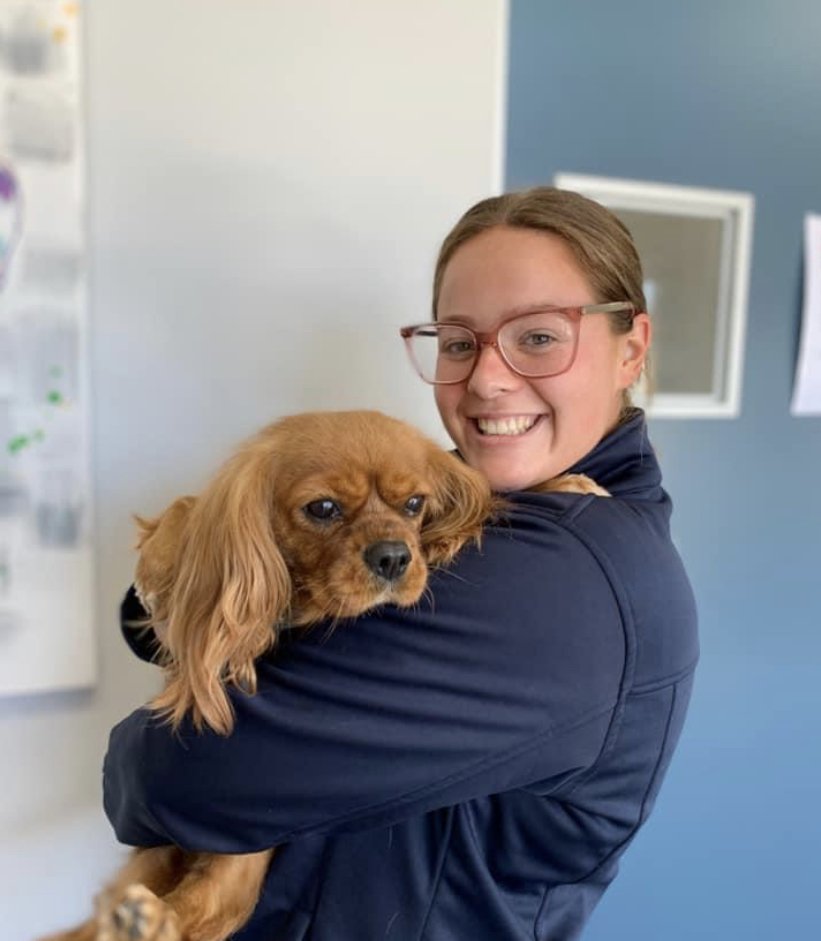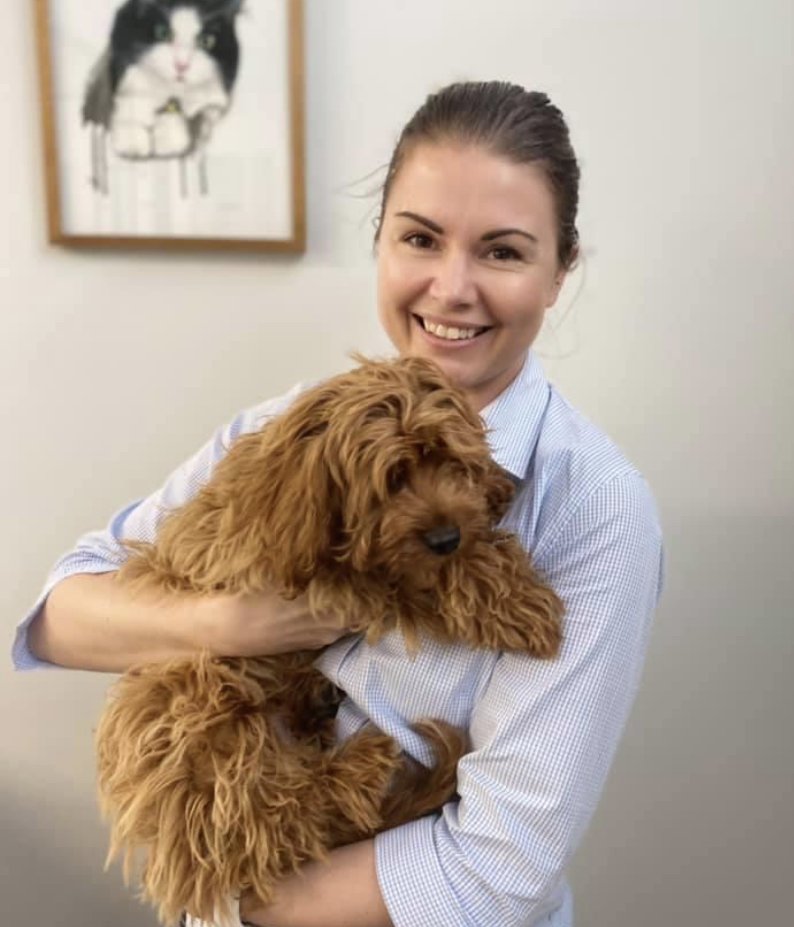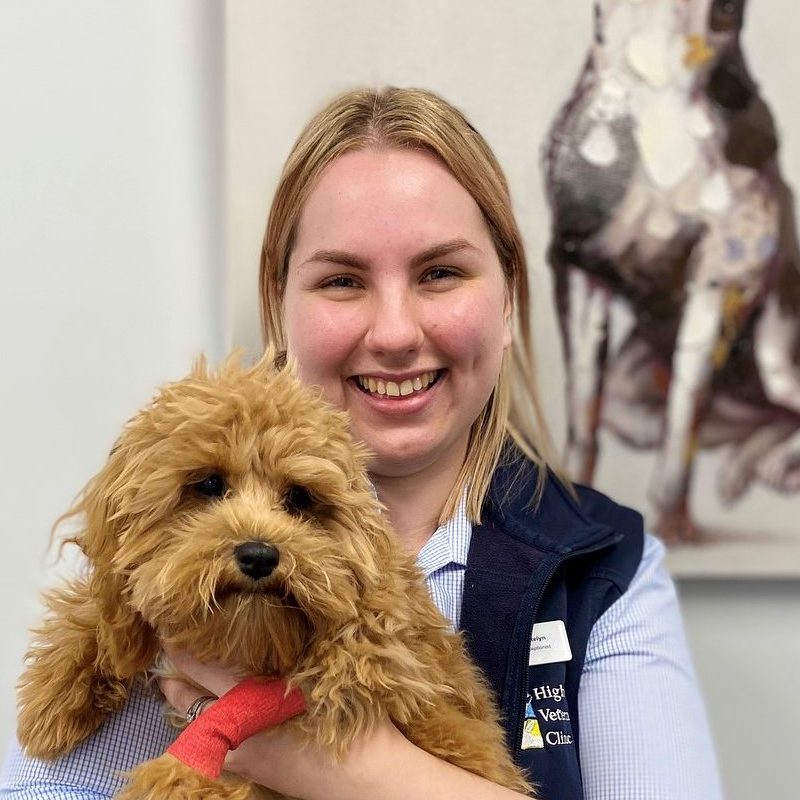 Katelyn is originally from Townsville in far North Queensland, however Katelyn and her husband settled into Geelong two years ago. She has three very spoilt guinea pigs Teddy, Penny and newest addition Butterscotch as well as two fish tanks full of fresh water tropical fish.
Whilst Katelyn might be a new fresh face at working at Vets of Geelong, she has fitted right in and has really enjoyed the opportunity to work with and learn from a very passionate team and she loves meeting all of our clients and their fur babies.
Outside of work she enjoys cooking especially italian, watching NRL (go the Cowboys), and exploring Victoria.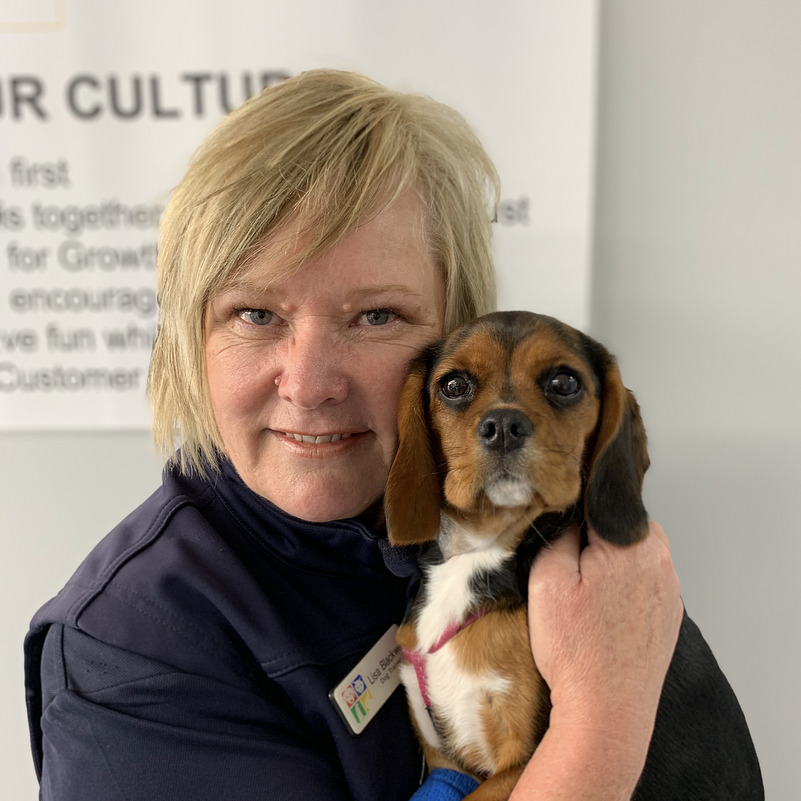 Lisa has over 36 plus years' experience in training dogs, 26 years of which has involved her taking puppy and training classes. Lisa coordinates and runs our Puppy Classes, Canine Academy, Adolescent Dog training classes, as well as our "one on one private lessons" here at the clinic.
Lisa always gets great feedback from the clients. She has the reputation of being one of the best dog trainers in Geelong and has been a member of the Association of Pet Dog Trainers Australia Inc, since 2000.
Lisa is fantastic at educating and helping clients understand/manage their dog's behaviours so that they can become well-mannered companions. Lisa understands that every dog and its family are different which is why she loves the challenge of solving any behavioural hiccups that a client may encounter with their pet. She regularly attends training workshops with leading experts in behaviour & training, so is up-to-date with the best techniques for the best outcomes for our clients.
Lisa and her husband have two children, seven dogs – Rottweilers & Field Spaniels and regularly compete with their dogs. Lisa is also involved in "Aussie Truffle Dogs", a company that breeds, evaluates & trains dogs to hunt for truffle.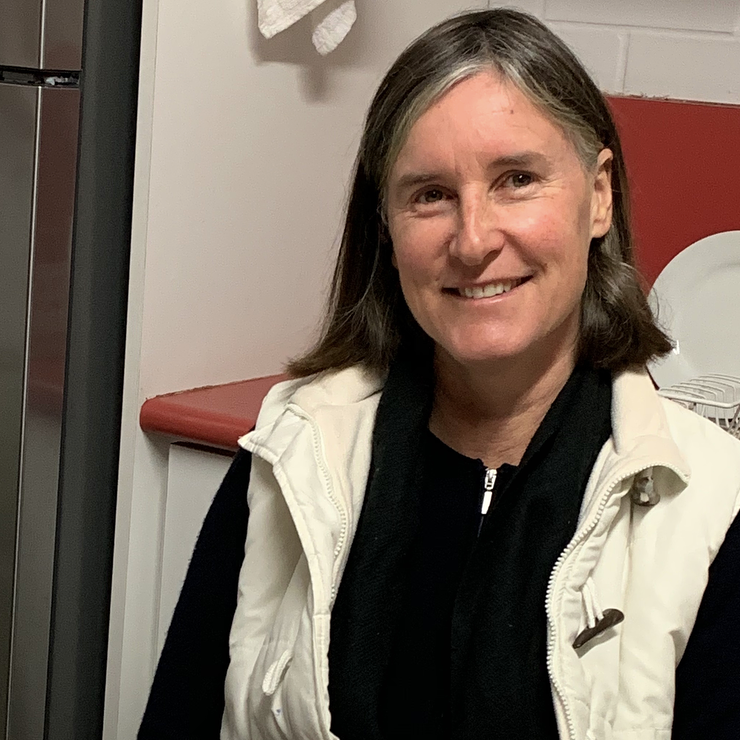 Anita is not someone you see at the clinic on a day to day basis but she has been at the clinic for years.
She helps make sure the clinic finances are running to plan.
When not at work she is busy with her family and dogs Tess and Lucy.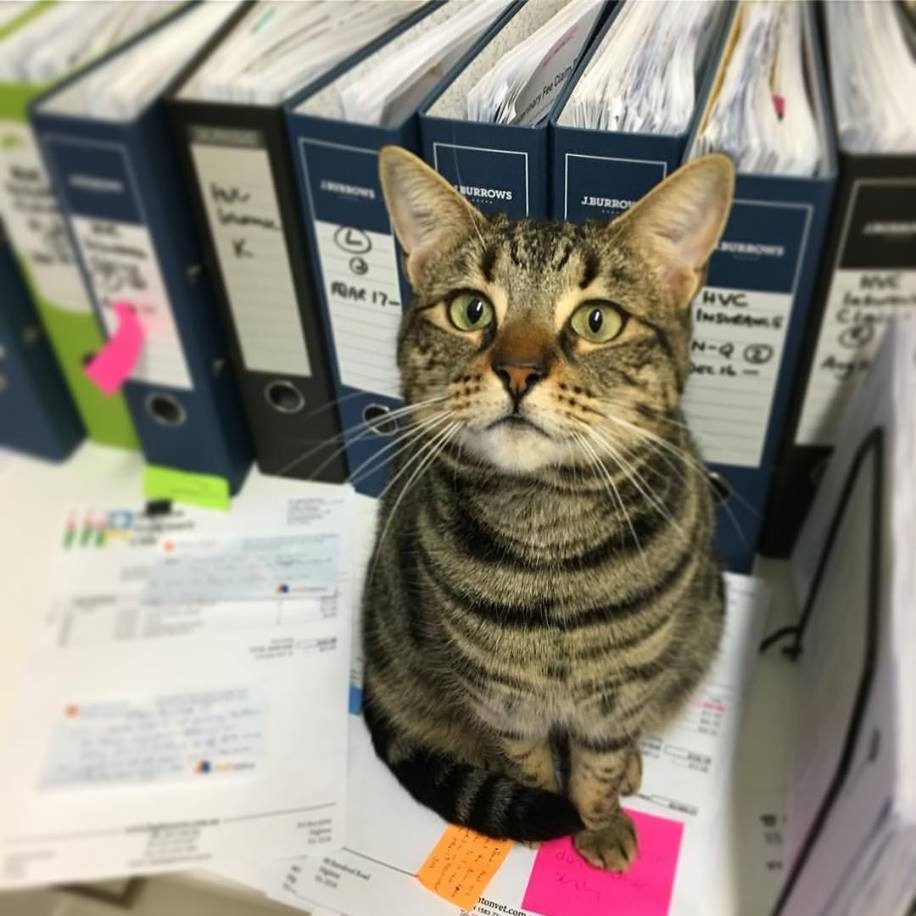 Betsy joined the team in October 2015. She, like most clinic cats arrived on our door step with her siblings, in a box as a dumped litter. And after winning the hearts of our nurse Sarah and then-receptionist Caitlyn, she never really left – nobody can recall exactly why except that we all loved her beautiful calm nature and sweet little face.
Hmmm!….what happened we ask for Betsy is the reason we sometimes have "discounted " pre-sampled bags of food for sale in the clinic, the bigger the better for Betsy! As she never stops eating, she has since been banned from access to all food areas of the clinic.
So now you won't see Betsy in the blue reception area, but if you come in the green door, she won't be far, just sleeping her days away in the admin office.
Our family,
caring for yours